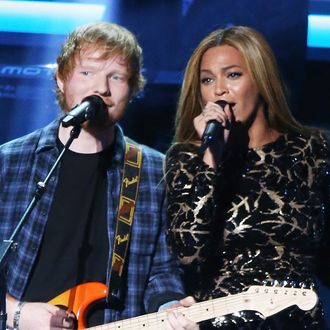 Bey and Ed on stage.
Photo: Michael Tran/Getty Images
Ed Sheeran is, like, really famous, you guys. And this is just how famous he is: He told Jimmy Fallon that he hung out with Jay Z and Beyoncé on Sunday night, after they attended his show at Barclays Center. Since they were in our natural habitat, Vulture decided to go to Houndstooth Pub to investigate. It's a midtown establishment that has become Sheeran's go-to spot after Gary Lightbody, better known as the lead vocalist from Snow Patrol, took Sheeran there a couple of years ago, following their performance at Madison Square Garden. (Lightbody is one of the co-owners.) So, naturally, Sheeran was like, "Hey, Jay and Bey, I know this really cool bar in midtown we can go to," and they somehow didn't laugh in his face and were cool about it. (We imagine.)
Vulture spoke with a bartender who works at Houndstooth, and he told us that Sheeran arrived with Beyoncé, Jay Z, and his supporting act Irish musician Foy Vance a little before midnight, where they occupied the lower bar with about 20 other people. Then, Ed Sheeran worked for their adoration: That is, he and Foy put on an acoustic performance in the middle of the room for the next hour or so, singing covers — including one of "Empire State of Mind." At the beginning, there was a round of Jager bombs, but overall it was fairly low-key. "It was mostly kind of like a jam session," said a bartender. "There wasn't a whole lot of drinking going on." Jay Z and Beyoncé both had a Johnnie Walker Blue on the rocks, after which Beyoncé ordered one from the bar herself. (She's her own woman.) It should be noted that Sheeran told Fallon that they ate pizza, but our source could not confirm that pizza was eaten on the premises. ("It's a mystery pizza," he said.)
"Everybody seemed to be pretty relaxed and chilled out. It was very mellow," said our source. "They were both oddly polite. They just seemed kind of normal and really nice people. It didn't seem VIP'ed out or anything." Beyoncé and Jay: masters of chill.