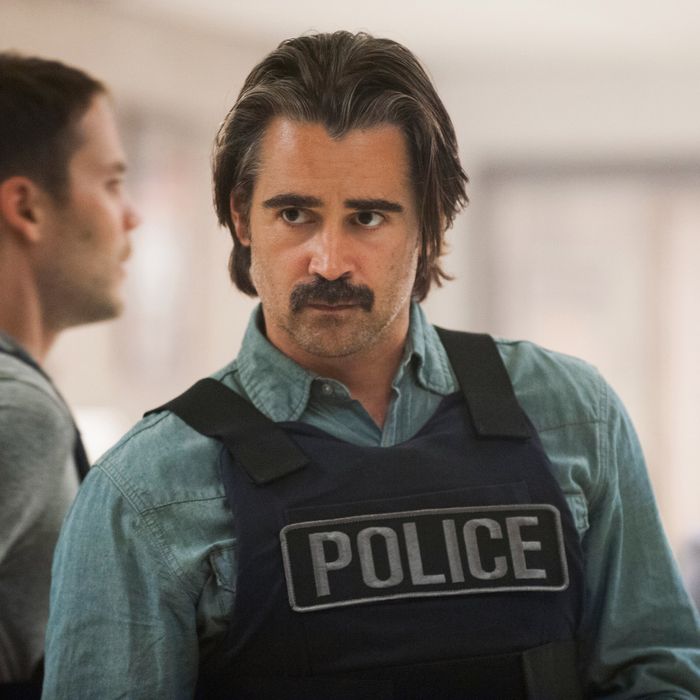 Taylor Kitsch and Colin Farrell in True Detective.
Photo: Lacey Terrell/HBO
Has there been a more discussed second season of TV than True Detective? I know, I know, it hasn't aired yet — and that's the point: The HBO neo-noir's first season inspired such critical and fan fervor that almost from the first episode, the question on everyone's tongue was, "What is the second season going to be like?" Actually, scratch that — the real question was, "Who's going to be in the second season?" Indeed, the absolute obsessiveness that's surrounded the casting process and overall genesis of True Detective's second season has been more all-consuming than whatever was on the Yellow King's face (was it tentacles? I guess we'll never know). Below, a timeline running down the year and a half of internet speculation that has brought us to this Sunday's premiere.
January 24, 2014: Less than two weeks after the show's first season premieres, True Detective creator Nic Pizzolatto signs a two-year contract with HBO; it's also announced that he's working on the show's second season and is preparing a draft to present to HBO brass.
February 21, 2014: A meme is born: The #TrueDetectiveSeason2 hashtag emerges from the depths of social media like an ominous swarm of birds, as everyone on the internet attempts to come up with the most clever and unlikely pairing to follow Cohle and Hart's lead. This is my favorite #TrueDetectiveSeason2 because I made it, so there.
February 23, 2014: "Hey @nicpizzolatto, if True Detective looked at feminine characters with the same lens as masculine, it would be PERFECT & MIND-BLOWING," Twitter user @friggenawesome tweets at Pizzolatto on February 22, 2014. The next day, Pizzolatto responds in a since-deleted tweet, "One of the detriments of only having two POV characters, both men (a structural necessity). Next season …"
February 24, 2014: It's announced that Cary Fukunaga, who directed every episode of True Detective's first season, will stay on as executive producer but will not return to the director's chair.
February 27, 2014: "They want to do season two. I just have to give them scripts and see if they like them!" Pizzolatto tells Entertainment Weekly. He goes on to suggest that he's considering using some of the same actors playing "different characters [in a] different setting."
March 3, 2014: Confirming what was more or less already known, Matthew McConaughey states that he will not be returning for season two of True Detective.
March 6, 2014: In an interview with BuzzFeed, Pizzolatto explains why he deleted his tweet about female characters: "I deleted the tweet because I didn't want to be beholden to a promise and then change my mind." He claims he's writing season two but doesn't "want to divulge any potentialities because so much could change," but confirms that the second season won't stick with just one director, à la season one.
March 10, 2014: Pizzolatto tells HitFix's Alan Sepinwall that season two will focus on "hard women, bad men, and the secret occult history of the United States transportation system."
March 15, 2014: Kate Mara pulls a selfie version of #TrueDetectiveSeason2 with Ellen Page; HBO faves it, and people write about it in an attempt to will the fantasy into reality.  
March 17, 2014: And we have our first major casting rumor, as Brad Pitt's name is temporarily bandied about to take one of the lead roles in True Detective's second season.
March 21, 2014: … And with that comes our first major casting rumor debunking, as an HBO insider tells Gossip Cop that Pitt's involvement is "pure speculation."
April 21, 2014: "I would do True Detective with Kristen Wiig in a heartbeat," Emma Stone tells Vogue, accidentally attaching her name to the internet-speculative short list of potential leads in the process.
May 21, 2014: E! News debunks a rumor that Jessica Chastain's signed on for True Detective.
May 25, 2014: In an interview with Wisconsin Public Radio show "To the Best of Our Knowledge," Pizzolatto lets a few more details slip, including that the second season will feature three leads this time around: "The characters are all new, but I'm deeply in love with each of them." He says that the season's plotted out with a few scripts already written, and that it will take place in California ("not Los Angeles, but some of the much lesser known venues") with the aim to "capture a certain psychosphere ambience of the place," whatever that means.
Pizzolatto adds that casting will start "in the coming months." Hey, maybe that'll slow down the casting rumors for a bit!
May 28, 2014: Haha, just kidding: The constant churn of the rumor mill forces Christian Bale's reps to confirm that, no, he will not be in season two of True Detective.
June 8, 2015: While we're waiting for the next scrap of actual news — hey, Matty McC, wanna be in True Detective again? Like, theoretically? "I liked the whole series and the experience of making it, so much that I'd be open to doing another one now," he tells Deadline.
June 11, 2014: "Literally, not a single rumor about casting that has been printed anywhere has any truth to it whatsoever," Pizzolatto says during a press conference. "I mean that literally. I've seen entertainment reporters say, 'My sources say …' There are no sources. There's me and two other guys, and they don't even know what I'm doing." He says that he's talked to "one person about it, possibly, and that has been it. We haven't cast anybody. I have a secret list and that's it." Pizzolatto also clarifies that "There's a strong female character, but I wouldn't say it is female-led or anything like that," and that he's written the first two episodes of the second season with "vague plans" for a third season, adding, "I can't imagine I would do this more than three years."
June 27, 2014: The Wrap reports that the first script for the second season's been turned in, and that it centers around one male lead and "male/female co-stars."
July 10, 2014: Pizzolatto tells The Daily Beast that while writing the season, the scope has "ballooned a little bit" and that there will be four central roles. Meanwhile, HBO programming president Michael Lombardo tells the Television Critics Association that the scripts turned in so far are "more exciting than the first season," and that some concrete casting news (FINALLY) might be announced "as soon as next week."
July 11, 2014: Well, that was quick: Deadline reports that Colin Farrell is "deep in negotiations" to join the show, and The Wrap reports that Taylor Kitsch is in talks to star, too. For their part, HBO claims "there is no news to confirm on the casting."
July 16, 2014: The rumor mill keeps on a-churnin', as Ewan McGregor's name is briefly tossed into the endless-seeming ring for True Detective's second season.
July 22, 2014: "I got nothing to say," Fukunaga tells Vanity Fair in the brilliantly titled news item "Even Cary Fukunaga Has No Idea What's Going On With True Detective's Season 2." He claims that the scripts aren't done yet, and the pilot (and, most important, the cast) isn't yet finalized.
August 4, 2014: The Wrap kicks off the month with a veritable avalanche of True Detective news: Vince Vaughn is in talks to star in the season, and both Elisabeth Moss and Michelle Forbes are circling the project, too. There's an official synopsis and character breakdown, too, as well as some surprising tidbits: Jessica Chastain previously passed on starring in the season, and director Andrew Dominik was approached to be one of the season's directors — but, alas, he's busy prepping a Marilyn Monroe biopic, Blonde, that Chastain's attached to.
August 21, 2014: Lombardo tells the Guardian International Television Festival that filming's set to start next month and the season will air the following summer. "It's still dark," he says about the upcoming season. "Nic explores the darkness in people's souls … It's not as dark, but it's not a light ride. Nic likes looking into the crevices of the soul."
August 25, 2014: "I know who's on Season 2, but I'm not going to tell you." God damn it, McConaughey.
September 23, 2014: It's official: Vaughn and Farrell are confirmed for lead roles in True Detective's second season. Justin Lin (Fast and Furious) is onboard to direct the season's first two episodes, set to film later in the fall "for a January premiere." There will be eight episodes.
September 25, 2014: And the cast's almost finally locked in, as Rachel McAdams is reported to be locking down a lead role, too.
September 30, 2014: One person who won't be in season two of True Detective: Elisabeth Moss. "Everybody knew far more about this than I ever did," she tells BuzzFeed.
October 27, 2014: Taylor Kitsch confirms his involvement in True Detective's second season, even as HBO hasn't: "I'm really excited. I've been prepping … It's been almost a full year since I've been on camera, so I'm itching, man. I'm overdue."
October 30, 2014: Four other actors are locked down for supporting roles: Kelly Reilly, Michael Irby, Abigail Spencer, and Leven Rambin.
November 19, 2014: More casting news: Adria Arjona lands a recurring role on the show.
November 23, 2014: Set photos! Nice bolo, Colin.
November 24, 2014: HBO confirms Kitsch and McAdams's involvement. About time!
December 11, 2014: A week after casting Dexter regular C.S. Lee as a recurring character, a more curious True Detective casting decision is revealed: Rick Springfield. "What a great script!" he tweets.
January 20, 2015: Well, it's January, and the show's still filming. But it's filming! That's a start, right?
February 12, 2015: In an interview with Playboy, Vaughn refers to the second season of True Detective as "very different." Okay!
March 18, 2015: An alleged plot synopsis emerges …
March 19, 2015: But hey, who cares — there's going to be a massive orgy! With real porn stars! (Are we sure this isn't the timeline for how the Entourage movie got made?)
April 9, 2015: A premiere date for season two of True Detective is set: June 21. (Hey, that's this Sunday!) Along with the news comes a trailer that spoils the entire series in under a minute (just kidding) and promo stills.
April 30, 2015: Sorry, conspiracy-obsessed fans: "There are no references or homages at all in True Detective Season 2," Pizzolatto tells The Wall Street Journal in an email. He should've used the hashtag!
May 14, 2015: Another trailer! Colin Farrell's hat looks great — his knuckles, not so much.
May 28, 2015: "I'll miss playing her," McAdams says of her True Detective character. But Rachel, we haven't even seen the show yet! Come back! (Or something.)
June 11, 2015: Ten days before the premiere, Pizzolatto lets one last plot description slip into a Vanity Fair profile: "a detective story in the manner of Oedipus Rex, in which 'the detective is searching and searching and searching, but the culprit is him.'" Nic! NO SPOILERS!