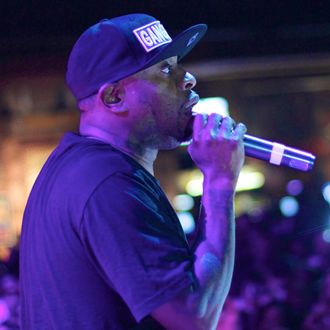 They're back.
Photo: Marco Torres/HOU/Getty Images
Houston rap legends Geto Boys (currently Scarface, Willie D, and Bushwick Bill) haven't made an album together in ten years. Since 2005's The Foundation, all three rappers have gone their separate ways — with one-off reunions and even a tour in between — but now the trio are finally ready to release new music together, with an album called Habeas Corpus. And like many acts from their era (most recently, TLC and De La Soul), they've turned to Kickstarter in lieu of a record label to protect their creative control. "We're gonna go the fuck off on the new album. If it scared David Geffen back in 1990, it's gonna ruffle a few feathers in 2015," Willie D tells Rolling Stone, referencing the group's famously political and graphic songs.
The album, for which they're asking $100,000 to be raised by July 15, will be produced by longtime collaborator Mike Dean, Tone Capone, N.O. Joe, Scarface, and Willie D, along with "new blood." Ice Cube is also set to make an appearance. Wanna hear Willie D drop truth bombs about #BlackLivesMatter? Donate $10,000, and you'll get that and a custom-designed Geto Boys coffin — perfect for if your head explodes.