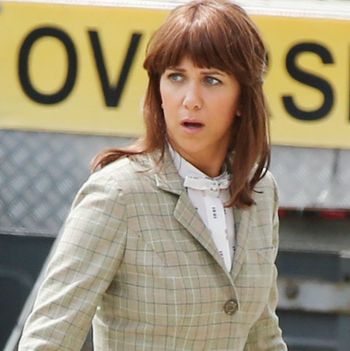 There's something strange on your forehead.
Photo: Stickman/Bauergriffin.com/Splash News
You called, and they're here. Paul Feig's Ghostbusters reboot, starring Melissa McCarthy, Kristen Wiig, Kate McKinnon, and Leslie Jones, started shooting in Boston, giving us a first look at the characters in costume. According to the Boston Herald, McCarthy and Wiig play authors who write a book arguing that that ghosts are real (in Feig's universe, ghosts are not a given). Wiig eventually lands a job at Columbia University, but when the book she co-authored resurfaces, she's laughed out of academia. Fortunately, some ghosts then appear, allowing them to go "Toldjaso!" and save the day. And boy, does McKinnon look ready.