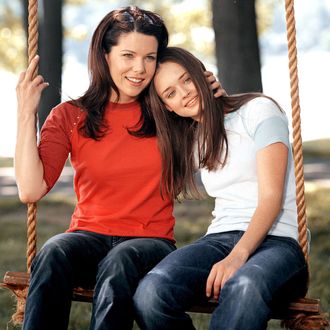 Photo: Warner Bros/courtesy Everett Collection/Everett Collection
The cast and crew of the beloved Gilmore Girls reunited at the ATX Television Festival in Austin, Texas, on Saturday night. Entertainment Weekly, which sponsored the event, was kind enough to post the details of the event. Some of the most interesting tidbits can be found below.
Amy Sherman-Palladino, the creator of the series, recalled the pitching process:
"And the last thing I said was, 'I have an idea about a mother and daughter who are more like friends and they said, 'I'll buy that… I was like, 'I have no idea what that is!' … She went on a weekend holiday, "and we were staying at an inn and I thought, 'Maybe [the mother] works at an inn? And by the time Monday came around, it all came into place."
Alexis Bledel explained how she was cast as Rory:
"I was at NYU and I just became interested in acting. I was at their film school and I was modeling to help pay for school… I was at my last modeling job and it involved large Home Depot buckets of water being thrown at my head … I looked like poor, miserable, 'Is this really happening?' … I was thinking this modeling thing isn't working out, plus I put on my freshman 15 so it really wasn't working out … This was like my fifth or sixth audition—" Suddenly [Lauren] Graham interjects: "Ever!" Continues Bledel:  "I really had no idea what I was doing … But [reading the script] I had the wonderful experience actors have when they have an instant connection. I knew who [my character] was. They had me come back like four or five times, and I got the job." 
And the inevitable question regarding a potential movie:
Finally the question! Will there be a Gilmore Girls movie to wrap things up? Patterson, who inadvertently recently prompted some buzz around the subject, seemed a bit apologetic that he got so many fans excited. Yet also says: "It's kinda time, don't you think?" Sherman-Palladino says: "There's nothing in the works at the moment. Here's the good thing: Nobody here hates each other. It would have to be the right everything — the right format, the right timing, it would have to be honored in a certain way. And if it ever came around, we would all jump in and do it. And if it ever happened, I promise you I'd do it correctly." 
The final question of the night came from a young boy who wondered whether Luke and Lorelai ultimately got married, to which Lauren Graham (who played Lorelai) responded, "I think they did." Of course, Logan disagrees.