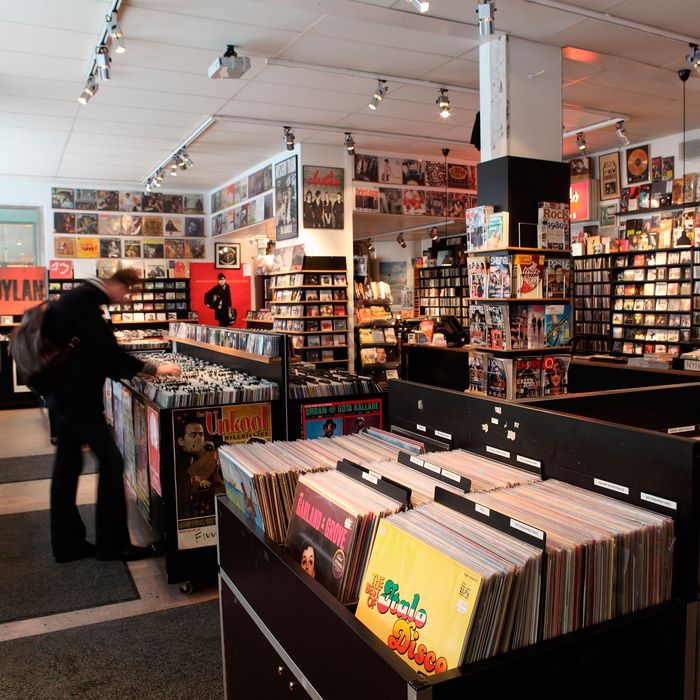 Pet Sounds record shop, Sodermalm, Stockholm, Sweden.
Photo: Tim White/Getty Images
Beginning July 10, Fridays will become the official worldwide album-release day in over 45 countries, an initiative led by the the International Federation of the Phonographic Industry, which represents over 1,300 record companies globally. Previously, different territories had different release dates. Here in the United States, Tuesday has been the traditional release day for decades, and the change is meant to help the music business align itself in the digital age on a global scale. Does any of this really matter to music fans? Well, here are five things you can expect after the shift:
Billboard and Nielsen will publish charts on a new schedule.
Going forward, streaming, album, and single-track sales will now be based on a Friday-through-Thursday period, and Billboard will publish new charts every Tuesday morning instead of on Thursdays, as it has done historically. From Billboard: "In response to the IFPI's global release date announcement, Billboard and Nielsen Music will adjust the tracking weeks for most Billboard charts. Concurrently, Billboard's rankings, including the Billboard 200 and Billboard Hot 100, and associated analytical stories, will shift their posting dates on Billboard.com."
#NewMusicTuesday will be replaced by #NewMusicFriday on Twitter.
As part of a branding initiative, a "New Music Friday" campaign and website have been launched to maximize global awareness and trending-topic potential. So whatever #NewMusic hashtag (insofar as people actually use that hashtag) you're used to on Twitter every week, expect it to be overtaken by #NewMusicFridays starting in July.
You'll listen to more music on the weekends.
The change is also meant to give consumers ample opportunity to hear more music when they want it, and according to a study conducted by the IFPI, research shows music fans prefer to listen to and buy new music on Fridays and Saturdays.

Independent artists and labels may suffer.
Billboard reports Martin Mills, chairman and founder of Beggars Group, has been a vocal critic of switch. "I fear this move will also lead to a market in which the mainstream dominates, and the niche, which can be tomorrow's mainstream, is further marginalized," said Mills. "I fear it will further cement the dominance of the few — and that is exactly what it is intended to do." While a global release day means fans can gain access to and coalesce around a new album at the same time, smaller acts may find it more difficult to break through.
There will potentially be fewer opportunities to pirate music.
Weeding out piracy is the record industry's No. 1 objective with this change. Album sales are its lifeblood, and those numbers are at historic lows. It's doubtful we'll ever see any artist sell 2,415,859 units in a week ever again, like 'N Sync did back in 2000, no matter what day it comes out, but having a coordinated global release plan should help prevent leaks.