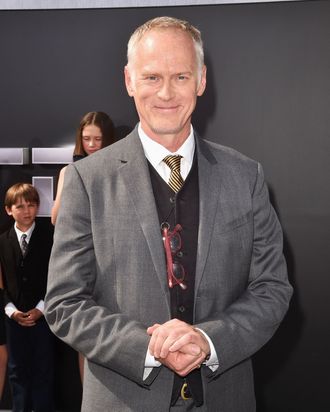 Alan Taylor wants what's best for his daughters.
Photo: Kevin Winter/Getty Images
"I think calling for more women in every aspect of this industry is a sensible thing," Alan Taylor, the director of Terminator Genisys told Vulture on the red carpet of his film's premiere at the Dolby Theater in Hollywood. The past season of Game of Thrones raised some eyebrows because for the first time, there were no female writers or directors despite trudging on with violent, rape-heavy story lines. (In the past three seasons, there have been three writers and directors: Jane Espenson, Vanessa Taylor, and Michelle MacLaren.) Vulture asked Taylor about the lack of women in the production process, which got him talking about his daughters and why he thinks the mounting gripes about violence against women on Game of Thrones is "nonsense."
I think calling for more women in every aspect of this industry is a sensible thing. It's easy to say that because it's correct, but I also have two very creative daughters and I wonder about where they're going to go when they grow up into this world. My older one is talking about maybe directing and writing which is exciting for me, and my eleven-year old [who, despite appearing in Terminator:Genysis as the young Sarah Conner] is mostly talking about wanting to be an oceanographer, so I think we're okay there.

Also some of my heroes are female filmmakers, so I don't quite understand why this is a problem still in this day and age. I don't think it's fair to target Game of Thrones specifically at all. I've been in that room when Vanessa Taylor was running circles around everyone else when she was writing for the show. I've seen female writers really contribute in big ways there. I know that recently the show has gotten some heat about gender issues, which I think is nonsense. We used to get the same thing on Mad Men, and the point on Mad Men was, "We're doing this because we're appalled by it. We're doing this because we should be looking at this." I think the same thing is true for Game of Thrones. It's a violent, violent world, and that's [that].