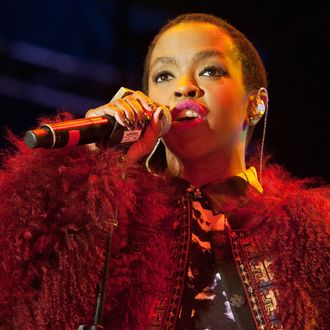 Photo: Erika Goldring/Getty Images
Earlier this week, we shared Lauryn Hill's lovely cover of Nina Simone's "Feeling Good," part of the Nina Simone tribute album being released in tandem with the Netflix documentary What Happened, Miss Simone? Now part of another Hill track has dropped, this one an original rap to be layered over Simone's song "I've Got Life."
Hill performed the song a few weeks ago at the New York premiere of What Happened, Miss Simone? at the Apollo Theater in Harlem. Well, she tried to perform the rap — Hill's voice seemed to die halfway through the multi-song set, and she briefly left the stage, returning a few minutes later and finishing the set by pointing at members of her band, telling them to take solos while she danced.
This is part of the rap featured on the song, not the entire song, Pitchfork confirms.
Nina Revisited, which comes out on July 10, also features contributions from Mary J. Blige, Common, Usher, Gregory Porter, Jazmine Sullivan, and Lisa Simone (Nina Simone's daughter). The film streams on Netflix June 26.
The full track listing:
01. Lisa Simone: "Nobody's Fault But Mine (Intro)"
02. Lauryn Hill: "Feeling Good"
03. Lauryn Hill: "I've Got Life"
04. Lauryn Hill: "Ne Me Quitte Pas"
05. Jazmine Sullivan: "Baltimore"
06. Grace: "Love Me or Leave Me"
07. Usher: "My Baby Just Cares for Me"
08. Mary J. Blige: "Don't Let Me Be Misunderstood"
09. Gregory Porter: "Sinnerman"
10. Common & Lalah Hathaway: "YG&B"
11. Alice Smith: "I Put a Spell on You"
12. Lisa Simone: "I Want a Little Sugar in My Bowl"
13. Lauryn Hill: "Black Is the Color of My True Love's Hair"
14. Lauryn Hill: "Wild Is the Wind"
15. Lauryn Hill: "African Mailman"
16. Nina Simone: "I Wish I Knew How It Would Feel to Be Free"