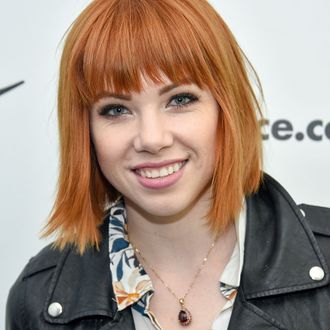 We'd drink tequila for you, babe.
Photo: Grant Lamos IV/Getty
Carly Rae Jepsen's comeback single "I Really Like You" hasn't eclipsed her breakthrough earworm "Call Me Maybe" just yet (we've all failed her). Vulture debated whether or not it'd have the oomph to propel it to Song of Summer status — which we haven't given up on — but it's more than likely that it peaked too early for the prom season that should've made it ubiquitous. (Maybe it'll show up on the Paper Towns soundtrack to give it a second life?) Since then, Carly has baited pop snobs with a slow jam in the form of "All That," one of many collaborations with Dev Hynes and producer Ariel Rechtshaid that'll appear on her forthcoming third album Emotion — a song even Pitchfork couldn't dismiss. Were we still living in the era of John Hughes, it'd have almost certainly painted the backdrop to a scene in Sixteen Candles. Sadly, it hasn't even cracked the charts. ("I Really Like You" has at least reached No. 39 on the Billboard Hot 100.)
It's possible, though, that at this stage in her career (and on the cusp of 30), Carly doesn't give a damn about the charts. "To be totally honest with you, I didn't pick 'Call Me Maybe' as the first single. I don't pretend to know what works at radio — it's always been a bit of a mystery to me," she recently told Stereogum. It took a midnight phone call from the head of her publishing division, she says, to even give "I Really Like You" a lead single push. She's bucking conventional album-cycle wisdom, too. Aside from the release of "I Really Like You," Carly hasn't appeared to be following any singular marketing plan for her third album. Three months later and she has yet to announce a release date, except to say that we'll hear it this summer. Tuesday night she shared its tracklist (17 songs!), and now that that cat's out of the bag, a new song has made its way online. The album is reportedly already available to preorder on iTunes Japan (with a release date of June 24), and with it comes an auto-download for the title track, "Emotion."
Like so many of Carly's songs about love and lust, she immediately asserts control: "Be tormented by me, babe," she sings in its opening line. "Drink tequila for me, babe," she taunts a few lines later. It's a beguiling kiss-off to an undeserving lover, dressed up as an '80s power-pop fever-dream. (She's leaning on that decade in particular for the direction of this next album.) But if whichever lover who burned her isn't listening, we all should be. As much as "Emotion" paints a target on the back of her ex, it does the same for anyone reluctant to take her work seriously. "[I'm] not a flower on the wall," she warns. This isn't your preteen's pop star, and she's not sorry if you still haven't wised up.