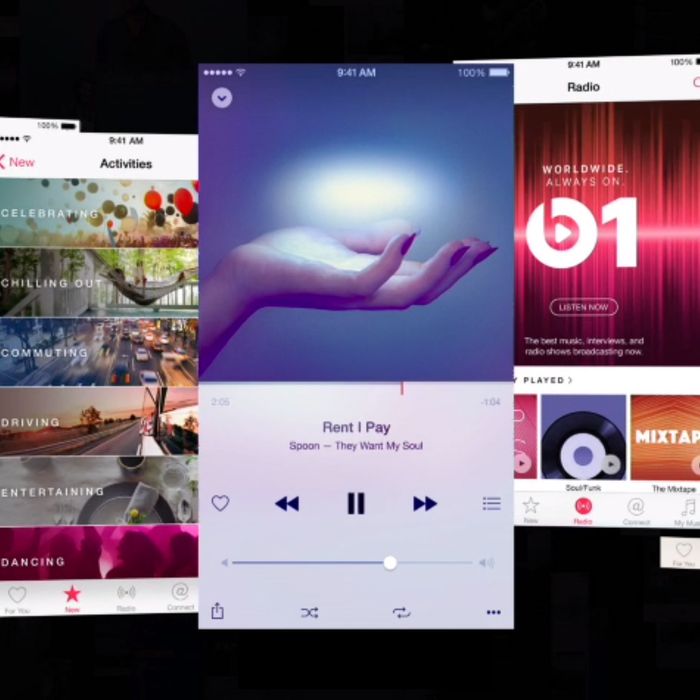 Months of hype morphed into reality today, as Apple Music — the tech giant's long overdue evolution from selling music to streaming it — finally went live. The buildup to launch has been rocky, with indie artists and Taylor Swift waging an ultimately successful war to get Apple to fairly compensate them for the use of their tunes. But with that messiness over (at least until the next rights battle), the focus turns to the most critical question: Is Apple Music a giant leap forward in the streaming space, or just another Spotify wannabe? The service has only been live for a few hours now, so it's probably premature to render that verdict. But three Vulture editors — music expert Lauretta Charlton, plus Dee Lockett and Josef Adalian — have been playing around with Apple Music all day, and they've already formed some strong opinions. Here are their first impressions. Note: This post was written before Apple Music's desktop version was available.
Navigation
Dee Lockett: To fire up Apple Music, you'll first have to update your iPhone or iPad to the latest iOS. In other words, free up some space! That's where Apple Music had its first hiccup. Unlike other streaming services, like Tidal and Spotify, it didn't simultaneously launch with a desktop version. That means that for the first day of its existence, Apple Music has only been available for mobile users. (Though reports suggest it will be available for Mac and PC users shortly.) It seems the newest iTunes update needed to access Apple Music on your computer (12.2) wasn't ready in time for the launch. (Update: iTunes 12.2 is now available for Mac and PC.) And your iPhone battery probably isn't impressed. Like iTunes, Apple Music hasn't mastered the art of the search tool. One of its first big exclusives is the premiere of a new song and video from Pharrell called "Freedom," but it's not immediately clear how to access it. It's not included on the rotating bar of features at the top of the New tab. And it's also not on Pharrell's artist page. A quick search of his name brings you to an eight-second preview of the video under the Connect tab. So how do you find it? Narrowing your search to "Pharrell Williams Freedom" — which will bring it up under Music Videos. Most of us are probably used to typing a couple of letters into a Google or Yahoo search bar and getting exactly what we're looking for in less than a second. Apple Music's search algorithm, unfortunately, isn't as convenient so far.
Josef Adalian: So far, at least for me, navigation has been Apple Music's biggest fail. I'm spoiled by Spotify: Years of refinements have resulted in a streaming service that makes it super easy to search for the music you want, even if you're not a heavy tech user. The biggest roadblock to getting around easily in the Apple Music ecosphere is that Apple divides content into two categories: My Music and Apple Music. The latter is basically its equivalent to Spotify, and it contains the millions of songs and albums available for unlimited subscriber streaming (including Taylor Swift's 1989 and, for the first time ever online, Dr. Dre's The Chronic). My Music is (apparently) a weird mix of any songs you've bought over the years on iTunes, as well as any tracks or albums you add from the Apple Music library. I stopped buying music on iTunes maybe five years ago, which means my library is way out of date. If I search for Taylor Swift in My Music, all that pops up is Speak Now from 2010. I have to remember to hit the very tiny "Apple Music" or "All" tabs in order to find 1989, et al. I eventually caught on to this, but at first I was frustrated by what seemed to be a very limited music library. I get the notion of a "My Music" library; you want to have a function, similar to Spotify's "Your Music" category, that lets users curate their own digital collections. But Apple's small print (relative to Spotify), white background, and thin typefaces just make it harder to distinguish between categories. Apple Music is a new town, and I'm sure I'll eventually find my way around. But for a company that built its business on user-friendly design, this is a surprising stumble.
Beats 1 Radio
J.A.: So the biggest difference between Apple Music and its many rivals (Spotify, Amazon, Rdio) is that it's sinking millions into rebooting (and remaking) a format that seemed to be dying: live radio. Every paid subscription comes with access to an always-on global radio station staffed by DJs in London, New York, and L.A. Former BBC 1 star Zane Lowe was the first voice heard on the station, and he promised there'd be none of the strict formatting that plagues most commercial (and even satellite) radio in the U.S. "Our genre is 'great,'" he promised. This runs counter to the movement — started by Apple with the very first iPod! — toward personalized playlists and ever-greater audience fragmentation. But, so far, I'm kind of loving Beats 1.
My early affection for the station has to be taken in context with one key fact: I stopped really paying attention to most new music about three years ago, somewhere between the 2010 release of Daft Punk's Tron soundtrack and Mumford & Sons' Babel. Certain songs still float on to my radar (particularly unavoidable pop-culture crack, like "Happy"), but I simply don't have the time or inclination to stay on top of what's good these days. What I dig about Beats 1, day one, is the huge variety of interesting, listenable tracks, almost all of which I have never heard before. 
D.L.: If there's one feature that puts Apple Music ahead of its competitors — aside from having 1989 and The Chronic — it's its new radio initiative. Stealing Zane Lowe away from BBC Radio 1 was perhaps Apple's best get so far — even bigger than Taylor Swift. And basing Beats 1 on BBC Radio 1's less-corporate format is ingenious; the Brits have always done radio best. Lowe launched the 24-hour global station with an hour block of music (some of which you can stream here, if you missed it), playing everything from the Weeknd to more obscure artists like Jack Garratt — a variety that encapsulates the professional curator's singular taste. If playlists feel like a mishmash of songs that might pique your interest, Beats 1 Radio should have a more thoughtful vibe, as if your friend with that impressive vinyl collection made you a mixtape. Think of Zane Lowe as your new BFF. But Julie Adenuga's the one you want DJing your next party.
J.A.: Lowe was sometimes earnest, but I loved his enthusiasm for new music and the whole endeavor. Julie Adenuga from London is even better, playing a great mix of Euro-centric beats (or at least I think they're Euro-centric). What's really great is remembering how much I love DJs introducing me to new stuff and commenting on songs. And not just whatever track is being pushed by the big labels this week: really interesting music you're just not going to hear on American radio. There is a difference between an algorithm guessing what it thinks I'll like and a human with actual tastes showing me what she thinks is worth a listen. This is not to suggest Beats 1 isn't cooperating plenty with artists and labels to break certain songs and acts. Within the first 90 minutes of the Beats 1 launch, Lowe played a (really good) song from Pharrell ("Freedom") three or four times. Pharrell does not need the exposure. But Lowe was also totally transparent about it all, announcing this was a track of the day and that he was gonna shove it down our ear canals. And the song is good. I'm not complaining.
Discovery
Lauretta Charlton: One of the flashiest features Apple Music offers is its integration with Siri. "Hey, Siri, play the new Janet Jackson song," I asked. "No Sleep" cued immediately, which is neat, but I'm more interested in the music that I don't already know about, like the 4 million songs that are never heard on Spotify. Discovery is an obstacle that streaming services haven't quite figured out yet. It's overwhelming to have millions and millions of songs at your fingertips, and our default reaction is to stick with what we're familiar with, revisiting the same old playlists. Apple Music wants to break that habit and take the lead on discovery. So far, it's off to a decent start. The "Apple Music Editors" option under New is organized by 25 genres. Each includes playlists, selected albums, artist spotlights, seminal works, and other recommendations. It's not flawless, but it's more comprehensive than Spotify's discovery option, which is mostly recommendations based on music I've already listened to. (If I listen to Roxy Music, I'm probably already listening to Elvis Costello and New Order, but those were two recent "discoveries" recommended to me by Spotify.) What I like about the "Apple Music Editor" option is that it gives me an opportunity to make a clean break from my usual tunes and find something foreign to my ears. Of course, it won't re-create the pleasure I used to feel when rummaging through plastic CD cases at my local record store, but it will hopefully influence more listeners to take chances on bands they've never heard of, as well as new genres they're unfamiliar with.
J.A.: Like Lauretta, I was impressed by the various Apple Editors selections. The music choices are deep and unexpected. But as open as I am to finding new stuff, I also like exploring music by decades and adding great, long lists of songs filled with synth pop or hair metal or Every Billboard No. 1 Hit Ever. Alas, there's no easy way to do that with Apple Music (or, if there is, I haven't figured it out). Oddly enough, Apple does have an Oldies tab, but that's just for music from the '50s and '60s. I'm happy that my preferred era of music isn't yet considered "oldies," but I'd live with that slander if I could just find a list of great songs from 1984. There need to be many more subcategories of playlists. I also wasn't impressed with the customization process that greets all new users. It's designed to get a feel for what kind of music I like, but I had to pop a lot of virtual balloons to eliminate categories and artists I'm not into. And the end result of five minutes of popping — a list of playlists and albums in the "For You" tab was neither deep nor all that consistent with my tastes.
Final Thoughts
L.C.: The true test of Apple Music's success will come in three months when the trial offer for those who signed up today expires. Will those users finally decide to spend $10 a month on music instead of Chipotle? I don't know. I'm always surprised when people tell me they don't pay for streaming. For less than $10 a month you can listen to any song you want, commercial free, anywhere. People spend more money on coffee in a day. But sadly, we're not used to paying for music anymore, and it will probably take more than three months to convince skeptics that they should.
J.A.: There's a lot to like about Apple Music, and one thing (Beats 1) to love. If you can find them, there's a great assortment of curated playlists (my current fun find: "Behind the Boards: L.A. Reid & Babyface." Yay, producers!). While overall navigation is a bit frustrating, Apple does a better job of incorporating album art into its design, making for a visually appealing presentation. And as noted before, I really am happy to have a great radio station. But I also am shocked at what's not in Apple Music. As Dee noted, there's no easy way to find the exclusive tracks on Apple Music. When listening to Beats 1, I can easily add some tracks to My Music, but many don't offer that option at all. And creating new playlists eluded me: I was able to add songs to existing lists, but not start a new one. This could all be operator error, but I've never had trouble with Spotify, Amazon Music, or Google Play. Apple should be easier than all of them, not harder. That said, Apple is wisely giving everyone a three-month trial. I will keep exploring, and hopefully, Apple will keep evolving.
DL: Apple Music has some tweaks to make: Ditch the Connect tab. It boasts a more interactive user experience with artists and has special access only you can get. On paper, it sounds great. But in reality, artists just aren't that interesting. For every attention-grabbing Azalea Banks Twitter feed, there's one overrun with PR drivel. Right now, the Connect feed resembles the latter. Photos of concerts with links to upcoming tour schedules, links to buy albums with commands to "Go get it!"; it's nothing you can't find on an artist's press release page. It's the opposite of an intimate artist experience. This feature will, no doubt, improve, but for now it's a waste of space.
And then there's "For You," Apple's customization tab. It boasts a playful design: You have to pick and choose pink-toned bubbles with oversimplified genre titled ("Oldies," "Experimental") to let the app know what kind of music you're into. From there, it narrows by artists. It's a fun game that'll then lead you to playlists like "Intro to Kanye West" or "Car-aoke! Rock 'n' Roll Traffic Jams" (don't ask me how I got there) with little value. No streaming service has yet to solve the mystery of how to read the minds of its users — and neither has Apple. But if, over time, the For You function does generate more music suggestions specifically for what it thinks you want to hear — and not what's already in your music library — then it'll give Apple Music a leg up on the competition. At least now I can tell all of my friends that today I listened to 1989 for the first time. Apple Music, you win.