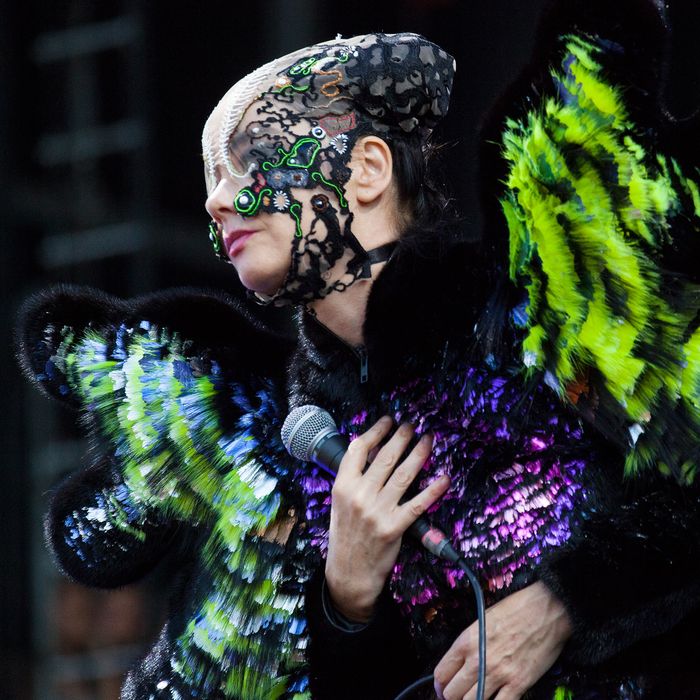 Björk.
Photo: Santiago Felipe
We survived another year of New York City's best music festival, the Governors Ball — which has nothing to do with Andrew Cuomo and everything to do this year with Drake. He headlined the festival on Friday night, setting the bar high for Saturday and Sunday headliners deadmau5 and the Black Keys. This year's edition saw everything from a Ryan Adams rant to a show-stopping injury. Below, we revisit the weekend's many highs and lows.
HIGHS
Best Performance Faces
Drake's headlining set on Friday night was triumphant. Performing in front of a set that looked like a glorified Rainforest Café, the 6 God treated a very hyped crowd to a career-spanning set that more than made up for his lackluster Coachella gig. He also proved himself to be a master of a very particular facial expression, one that roughly translates to "I am enjoying this moment so much that it is causing me physical pain." Basically every face Drake makes when he is performing is the face he makes when he is receiving a lap dance in the "Anaconda" video. Legend, indeed.
Best Crowd Sign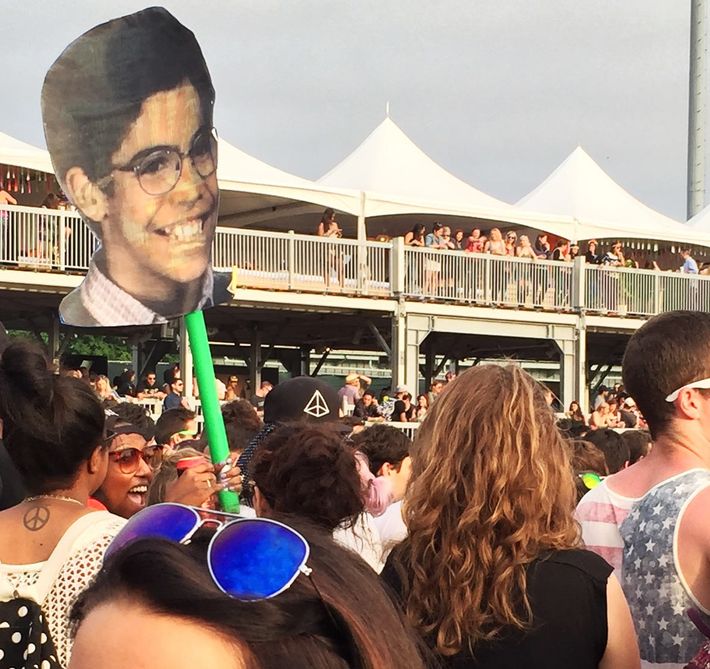 Best Vocal Performance
Men may have been the selling point of this year's Governors Ball — in its five years, only male-fronted acts have ever headlined the festival — but women were the main event. Friday's lineup featured the one-two punch of Florence and the Machine followed by St. Vincent on the other side of the field. Personal injury be damned, Florence Welch sang determined to take her crowd — one of the weekend's biggest — to church. It was her first time performing without a chair, she proudly explained, since she fractured her foot at Coachella back in April. And if she wasn't careful, that newfound freedom might've given her an impulse to sacrifice her body yet again, as she hurtled through a career-spanning set list, flexing her seemingly limitless powerhouse vocals along with her legs. "I keep forgetting that I broke my foot," she joked. So did we.
The "I Didn't Realize This Many People Liked This Band" Award
Canadian electro-pop duo Chromeo played a fun, packed midday set on the main stage, and they even brought out their friend (and former Gov Ball headliner) Ezra Koenig of Vampire Weekend to play a little "Cape Cod Kwassa Kwassa," followed by Chromeo's '80s-slick single "Bonafied Lovin'." Many hours later, on the annually soul-crushing exodus from the RFK bridge, people around me kept their spirits up by continuing to chant, "Chromeo / Ohhhh-ohh," as if the memory of the set would transport us to a better place. I didn't realize that many people liked Chromeo! Good for Chromeo.
Most Surprisingly Hyped Crowd
For most of the weekend, the Gotham Tent played host to innovative DJs (Rustie, Flying Lotus) and up-and-coming pop stars (MØ, Kiesza), but at 5:45 on Sunday, it welcomed a true veteran: Weird Al Yankovic. Most people seemed to wander over out of curiosity — who goes to a Weird Al festival set? — and when Al opened with a medley of polka covers of recent hits ("Wrecking Ball," "The Best Song Ever"), things were looking bleak. But as soon as Al reemerged in his fat suit and led the overflowing crowd in a sing-along of (what else?) "Fat," the place went unabashedly crazy. This was the nerdiest festival set I have ever seen, and since music festivals are too often a place where people are very concerned with looking achingly cool at all times, I mean that as the highest compliment. Shout out to the bro who sang every word of "It's All About the Pentiums."
Best Costume
The jury's still out on what, exactly, Björk, Icelandic queen, came out in front of a full orchestra dressed as. Was she a spider? A moth? A butterfly? My money's on a caterpillar transforming into a butterfly. Or maybe she birthed her own unique insect species right there onstage. (Clips of other insects doing gross insect things also played on a screen behind her.) Either way, she delivered the best (and most headliner-worthy) set of the weekend — even if the crowd didn't quite know what to make of her spectacle.
Band That Gave Us the Most Reason to Get Very Excited for Their Next Album
Hi-def Aussie psych-rockers Tame Impala are officially conquering the festival circuit: Theirs was one of the most-talked-about performances at this year's Coachella, and they justified the hype at Gov Ball — proving that they're the one rock band that even the EDM kids like. (Sorry, Ryan Adams.) Their midday Sunday set was quite possibly the best of the weekend, running through a crisp, pummeling version of their great 2012 single "Elephant," as well as some very promising new material from their spacey forthcoming album Currents. Are Tame Impala single-handedly saving rock music? For at least one blissful hour this weekend, it seemed that way.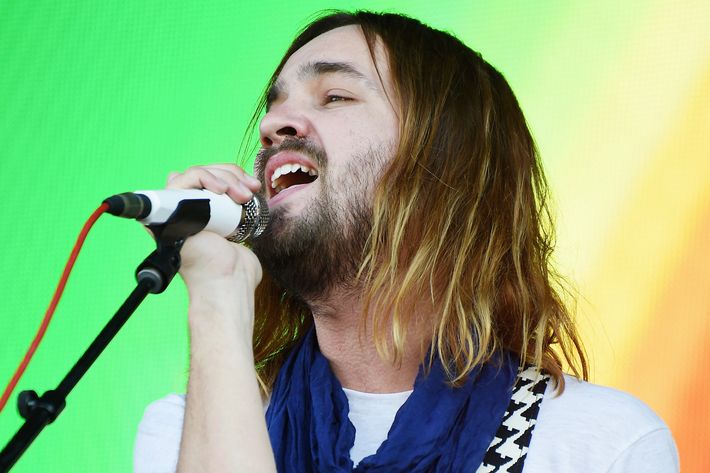 LOWS
Biggest Disappointment
The High Priestess of Diet Mountain Dew Lana Del Rey hasn't played New York in a while, and on the festival's final day, she was the artist the crowd seemed most excited to see. Which is why it felt strange that she wasn't closing the main stage — that honor went to the Black Keys — but instead was relegated to a 9:15 set on the less impressive Honda Stage, tucked away in a corner of the park. This turned out to be Gov Ball's worst decision of the weekend: The smaller stage's soundsystem was way too quiet for the humongous and increasingly agitated crowd, which started chanting, "Turn it up!" after Lana opened with a long, languorous rendition of Ultraviolence's opening track, "Cruel World." Audibly speaking, it was a mess. No one in the back half of the crowd could hear a word Lana was saying, and the music was so soft that it often took us at least a minute to figure out which song she was playing. Was this Lana's fault, or the festival's? Of course, LDR's had a dubious reputation as a live performer since her infamous SNL performance, but the reviews of her current Endless Summer tour have been near-rapturous. I'm going to chalk the set's failure up to poor scheduling. Placement on the main stage would have given her sound the extra oomph she needed (and judging by the size of their crowd, the Black Keys would have been a worthy opener for the Queen). Fans who were lucky enough to get up front for the show seemed to enjoy it, and even those who decided to cut out early got an unexpected treat: You could actually hear her better from the RFK Bridge than you could from the stage.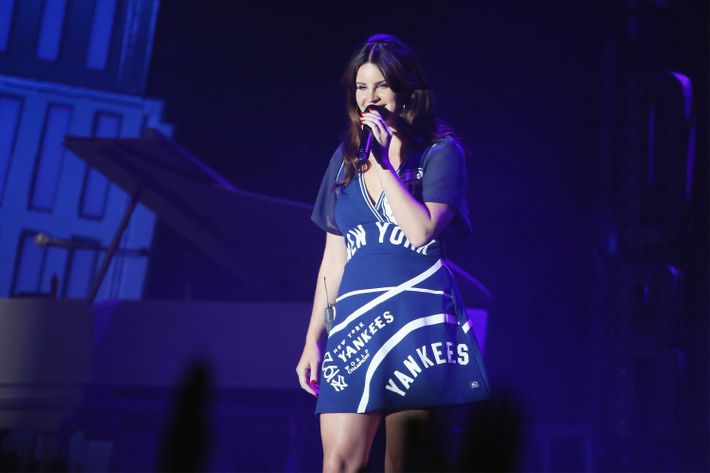 Worst Injury (But Best Recovery)
Gov Ball kicked off Friday wet and gray, with steady rainfall washing off everyone's flash tattoos and creating a muddy maze of sinkholes. By the time Mississippi brothers Rae Sremmurd unlocked their swag on the main stage around 1:30, conditions hadn't improved. And Slim Jimmy paid for it almost immediately when he took a nasty spill off a speaker. (If you can stomach it, here's a graphic photo of his injury.) But even without his older brother/hype man, Swae Lee finished off the set — a new Wiz Khalifa collaboration included — on a typically high-pitched note.
Worst Song Dedicated to Female Fans
Future was a late addition to Friday's lineup, thanks to his Jungle tour with Drake. But he performed a set list of hits — "Fuck Up Some Commas," "Same Damn Time," "Magic" — on par with his headlining tour mate. His biggest misstep? Baiting women in the crowd with his misogynistic ode to trophy wives, "I Won." Ciara, you're the real MVP.   
Worst Rant
Ryan Adams had the misfortune of playing on the lesser-loved Honda stage Saturday night, which should've kept his jamming at a safe distance from the top-billed deadmau5. No surprise, though, his country-inflected tunes weren't enough to drown out "Moar Ghosts," and boy, was Ryan pissed. "This song is not going to match the robot music over there … It's like we're living in a fucking Terminator nightmare!" he ranted. 
Worst Tech Malfunction
Speaking of that "robot music," deadmau5's headlining performance didn't go off without a few hitches of its own. It took a few tries for his set to actually get started, with the festival's power giving out on him several times. (Spoiler: He uses more lights than Clark Griswold.) But once he got fully plugged in, it was the weekend's best rave.