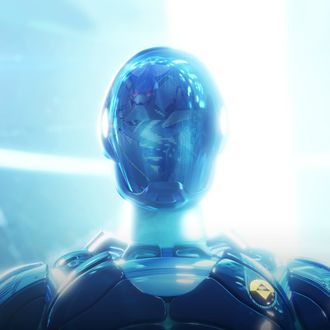 A glimpse at the ReBoot reboot.
Photo: Corus Entertainment
ReBoot, the Canadian computer-animated cartoon about friends who battled viruses inside a computer, is receiving its long-awaited reboot, thanks to Corus Entertainment. Titled ReBoot: The Guardian Code, the ReBoot reboot will be a hybrid live-action–CG-animated series and will follow a mostly new cast of characters in four teens (Austin, Parker, Grey, and Tamra) who have to do Tron stuff and protect cyberspace from a hacker, dubbed the Sourcerer, and all his nasty viruses. The original show, known for being the first-ever completely CG-animated half-hour TV series, aired from 1994 to 2001 in the U.S. and Canada. It enjoyed a cult fandom (especially on Air Canada flights), but struggled to find legs again after the original series' conclusion and some one-off projects.

"The new ReBoot will feature the same action and comedy that viewers loved in the original series, but with an updated technological universe that will fascinate a new generation of kids," Jamie Piekarz, director of content for Corus Kids, said in a statement, noting that the show will try to make contemporary tech and coding fun (!). Most important, this means the show's beautiful puns and catchphrases will be getting upgrades (not that alphanumeric isn't timeless), too. Heck, even Megabyte is coming back, supposedly with a makeover (Kill-obyte? Terrorbyte?). Production is commencing for 26 half-hour episodes. ReJoice.