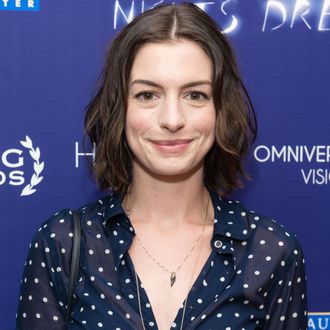 She came in like a wrecking ball.
Photo: Noam Galai/Getty Images
Anne Hathaway kicked off Spike TV's Lip Sync Battle with a high the show hasn't quite been able to match, performing Miley Cyrus's "Wrecking Ball" complete with sledgehammers and, most memorably, a wrecking ball. But as she told Vulture at Tuesday night's Peggy Siegal screening of True Cost, hosted by Dean & DeLuca, she can't take credit for the song selection.
"I wasn't quite sure what song I was going to do, but then I reached out to my buddy Jenny Lewis, and she got back to me in three milliseconds with the 'Wrecking Ball' idea," Hathaway recalls. "I'm a big Miley fan. I think she is tremendous. I think she is really, really special. And I love that song."
The actress also offered up some advice for future celebrity contestants on the show: "The phrase go big or go home applies to that show. Leave it all out on the floor." Come in like a wrecking ball, leave like a winner.