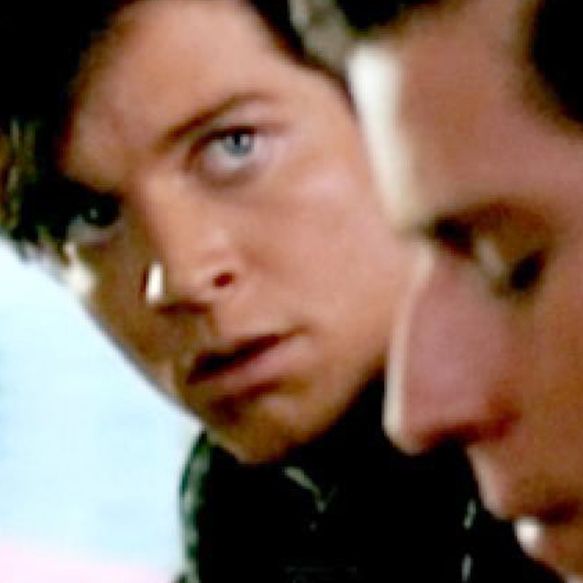 The once and future Marty McFly.
Photo: Universal
This excerpt was originally published on June 26, 2015. We're repromoting it for Back to the Future Day.
As any true Back to the Future fan knows, Michael J. Fox was not the first actor cast as Marty McFly. That honor went to Eric Stoltz, at the time an up-and-coming young method actor with significant buzz. Only a few weeks into filming, director Robert Zemeckis and writer Bob Gale realized something was wrong: Stoltz was a fine dramatic actor, but he wasn't bringing the screwball energy the film needed. They came to the studio head Sid Sheinberg with a proposition: Let them fire Stoltz, and replace him with Fox, whom they had wanted all along. Sheinberg agreed, but the transition couldn't take place right away — Stoltz was forced to labor on, unaware his days as Marty were numbered. In this exclusive excerpt from Caseen Gaines's new book, We Don't Need Roads: The Making of the Back to the Future Trilogy, the people behind the film reveal what those odd few weeks on set were like.
Meanwhile, production kept moving along with the original McFly. Years later, when Eric Stoltz was asked to reflect on his time working on Back to the Future, the actor recounted that it felt like a long winter. Perhaps he was remembering the evening of January 7, when art imitated life and Stoltz and Marty's experiences finally became one. The cast and crew shot at Griffith Park, a location production manager Dennis Jones hyperbolically noted that, at night, is the coldest spot in the known universe. Just hours earlier, Zemeckis got the approval to move forward with transitioning away from one lead actor to the other. Few people knew it at the time, but the actor was soon to be given severance and sent on his way. That evening, Stoltz shot a scene in the sequence before lightning strikes the clock tower. Marty is at the white starting line getting ready to take off in his vehicular time machine. He slams on the gas, but nothing happens. He feels the simultaneous frustration and disappointment that his perceived destiny, his future, isn't within reach as he originally thought. He tries again, but nope. He keeps turning the key, trying to coax the vehicle into motion. Ultimately, he slams his head into the center of the steering wheel in exasperation, the car starts, and he prepares to drive. He looks ahead, eyes focused, throws the car into gear, and —
"Cut. Thank you, Marty. We'll take it from here." The actor got out of the car and his stunt double took his spot, presumably to complete the journey while Stoltz waited on the sidelines.
The next day, production moved to the Puente Hills Mall, the large shopping center in the City of Industry, located in the San Gabriel Valley region of Los Angeles County, which served as the location for the fictional Twin Pines Mall. The cast and crew were scheduled to shoot the scene with the time machine's first temporal displacement, where Doc sends his dog Einstein one minute into the future. The pageant continued, with the crew continuing to accumulate largely irrelevant footage of Stoltz, unknowingly practicing for Fox's turn at the take, as unit photographer Ralph Nelson snapped photographs that would remain under lock and key for decades to follow. Doomsday came just forty-eight hours later. The majority of those called to the mall that night had no reason to suspect that this shoot would be any different from the ones that preceded it. The lead actor arrived on set at 5:30 p.m. and headed directly to hair and makeup. He then proceeded to go in front of the cameras for his final time, presumably to feed lines to Christopher Lloyd, who played his costar Dr. Emmett "Doc" Brown. Production manager Dennis Jones filled out a report on each shooting day with codes listed to represent how each actor's time was spent on that particular day and whether or not he or she was needed back at a subsequent time. On January 10, in the column for Stoltz, Jones wrote the letter F in black ballpoint. In this case, it stood for finished, but a number of other words could certainly have stood in its place, fired among the most gentle.
It was decided beforehand that members of the production team would let the principal cast know about the change slightly in advance of the big announcement to the rest of the crew. Bob Gale spoke with Crispin Glover, who was cast as George McFly, and Thomas F. Wilson, who played bully Biff Tannen, while Neil Canton was responsible for talking to Christopher Lloyd and Lea Thompson. Frank Marshall and Kathleen Kennedy called Eric Stoltz's agents. Robert Zemeckis broke the news to Stoltz himself as Spielberg waited in the wings.
Exactly what transpired between the director and his outgoing leading man during their conversation has been kept between the two of them, but Zemeckis acknowledges that the actor took the news hard, as was to be expected. For Canton, the night that he had assumed would be filled with unhappiness got off to a surprisingly lighthearted start when he received a much-needed laugh from his old friend Christopher Lloyd. "I knew Chris because we had worked together on Buckaroo Banzai," he says. "He was funny. When I told Chris that we were going to be replacing Eric in the film, he looked and me and said, 'Well, who's Eric?' I said, 'Marty,' and he said, 'Oh, I really thought his name was Marty.' To this day, I don't know if Chris was just pulling my leg." Canton's amusement came from the fact that, on set, Stoltz adhered to his method acting instruction and refused to answer to his real name, to the frustration and eye-rolls of many on the crew. Those on the production team didn't find the request as grating as the rest on set did. "We almost always called him Marty," Bob Gale says. "We thought it was silly, but we figured if it helped him do his job, it was harmless. There were a few people on the crew who'd worked on Mask and they called him Rocky, the name of his character in that film."
While Lloyd may or may not have realized that this was simply Stoltz's way of staying in character, Tom Wilson was clear that Eric Stoltz was his name and being a pain in the ass was his game. The origin of the frequently awkward and hostile working relationship between Stoltz and Wilson can be traced back to when the former was required to push the latter while filming the scene in the school cafeteria. According to Wilson, the lead used all his force take after take, unwilling to play pretend. Despite repeated requests from Wilson to take it easy, Stoltz didn't, forcing the heels of his hands into the supporting actor's collarbone with increasing strength.
Action! Push. Cut. Again. Action! Push. Cut. Again. Action! Push. Cut. Again. Action! The result was a perfect shot and a number of bruises on Wilson's collarbone. A score had been created and the bully of Hill Valley High was seeking to settle it in a few weeks. Wilson, who was appearing in his first major motion picture — he'd had a small role in an indie film called L.A. Streetfighters that he was eager to forget — felt he was in no position to complain to the director, but made a mental note to retaliate when they got around to filming the scene when Biff punches Marty at the Enchantment Under the Sea dance. Wilson would never have his chance to deliver Stoltz's comeuppance.
For Lea Thompson, the news of Stoltz's dismissal was bittersweet. "It was hard for me because I was really good friends with Eric," she says. "Eric is such a different actor and he could be very difficult. It was a time when we were emerging from the seventies. All the young actors wanted to be like De Niro and Pacino, which was good in a lot of ways. Now a lot of young actors are just like businessmen. It was a different time. But it was not the right movie to behave like that. Eric had such an intensity. He saw drama in things. He wasn't really a comedian, and they needed a comedian. He's super-funny in real life, but he didn't approach his work like that, and they really needed somebody who had those chops."
However, as disappointed as she was to hear that he was being removed from the project, the news did come as a small relief, especially considering her own minor indiscretions at the time of filming. "My boyfriend at the time was Dennis Quaid, and he was overseas making a movie," she says. "We hadn't seen each other in a while and I really wanted to see him. I was not supposed to go away, but I had a week or two off, so I slipped away against the rules after I was explicitly told not to leave town. I was in Munich. That was a long time ago, so I called my answering machine just to check in and it was like 'Beep! This is Steven Spielberg. Beep! This is Frank Marshall. Beep! This is Bob Zemeckis. Beep!' and I was like, 'Oh my god, I'm getting fired! Oh, my god! Oh, my god! Oh, my god, they found out that I ran out of town and I'm in trouble!' I was trying to get a plane ticket until I finally talked to Neil and he told me what happened.
"I was just super-relieved it wasn't me," she continues, still laughing about it after almost three decades. "I disobeyed the rules. They wouldn't remember that because I never told them I was out of town."
Some of the actors who worked most closely with Stoltz had a feeling that something was off-kilter within a week of the announcement. Tom Wilson remembers there being an off atmosphere and uncomfortable buzz around the set in the first few days of 1985. Christopher Lloyd also had a sense that things were not clicking the way they should have been. "I felt for Eric. He was a really good actor," he says. "Although he was doing the part well, he was not bringing that element of comedy to the screen."
As surprising as the announcement was, some on the crew had sensed that a big change was forthcoming once shooting resumed after the Christmas holiday. "There were signs, especially the last week or so," Cundey says. "When we would set up a shot and we would shoot Chris Lloyd's angle, but we wouldn't do the reverse on Marty. I'd say, 'Don't we need the angle?' and Bob would say, 'No, no, no, let's not worry about that.' It didn't take long for me to see that we were saving our energy for what would come next."
"I got a phone call from the producers, I don't remember if it was Bob Gale or Neil, basically saying, 'Larry, don't change the set from 1955,'" production designer Larry Paull says. "They said they weren't done with it, there may be some changes, and they couldn't go into it any further, but I was to stop what I was doing."
The formal announcement came during the late-night "lunch break," around 10:30 p.m. After Zemeckis dismissed Stoltz from the set, the cast and crew were assembled. The full production team of the director, Bob Gale, Neil Canton, Kathleen Kennedy, Frank Marshall, and Steven Spielberg were present, an unusual show of force that tipped everyone off that something serious was imminent.
"We have an announcement," Zemeckis said into his bullhorn. "It's probably going to be shocking — kind of good news, bad news." The crowd was starting to grow uneasy, he could tell. "I'll give you the bad news. We're going to have to reshoot most of the movie because we've changed the cast and there's going to be a new Marty: Michael J. Fox."
The director saw the reactions. They weren't gleeful, per se, but they didn't seem to be as angry or worried as he had feared. Someone from the crowd shouted, "That's certainly not the bad news!"
"Okay, well, then that's the good news. I guess the other good news is that we're going to continue on." He paused. "So it's only good news and good news."
From WE DON'T NEED ROADS: The Making of the Back to the Future Trilogy by Caseen Gaines. Published on June 23, 2015 by Plume, an imprint of Penguin Publishing Group, a division of Penguin Random House LLC. Copyright © 2015 by Caseen Gaines.