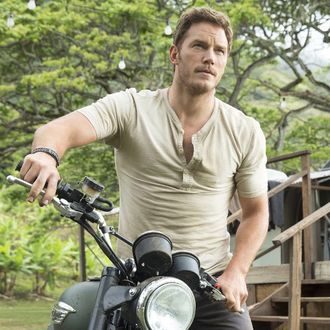 Photo: Chuck Zlotnick/Universal Pictures
Jurassic World took the top spot at the box office for the third straight week, just beating out Pixar's emotional (literally and figuratively) Inside Out. The destructive dinosaur blockbuster made $54.2 million, bringing its domestic total to $500 million. Internationally, it made $737.5 million, for a worldwide total of $1.24 billion, which is simply an absurd amount of money. Inside Out made $52.1 million, bringing its domestic total to $185 million and its international to $266.4 million.
Ted 2, which cost $68 million to produce, came in third, earning only $33 million, 39 percent less than its predecessor. On Twitter, Seth MacFarlane tried to convince moviegoers to see his movie by capitalizing on this week's historic same-sex marriage ruling, but no one seems to have fallen for the ploy. That tweet, seen below, has been subsequently deleted and replaced with much more supportive ones.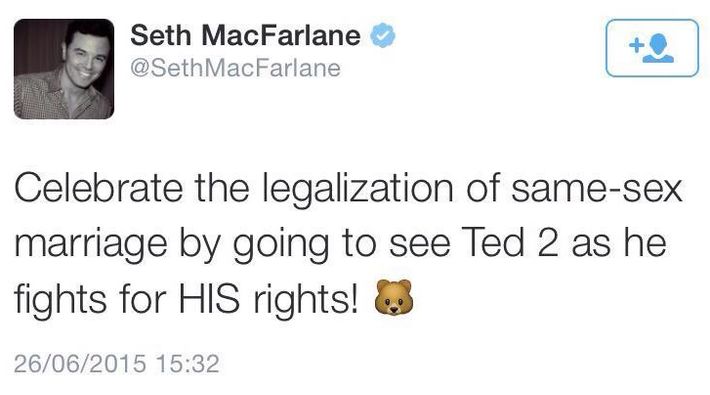 Max, a dog-centric flick that has nothing to do with madness or Furious Roads, made $12.2 million in its first weekend, while Spy keeps drawing in viewers, earning another $7.8 million for a total of $88.3 million.
On the indie side of things, Infinitely Polar Bear added 12 theaters and took in another $69,000 for a total of $133,000, while the wonderful French house drama Eden made $39,000 in 14 theaters for a slim average of $929 per theater. The drug addiction drama Heaven Knows What, one of the year's most despondent films, made $2,000, bringing its total to $70,000. Finally, the release of the first major restoration of Carol Reed's classic The Third Man, one of the greatest films ever envisioned, made $24,000 in three theaters.