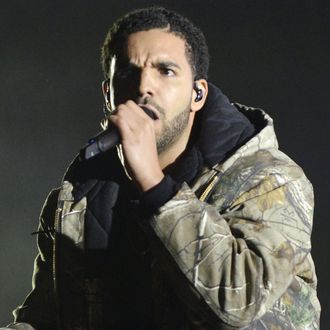 Drake performs during the 2015 Coachella Valley Music and Arts Festival.
Photo: Tim Mosenfelder/Getty Images
Apple is reportedly scheduled to launch its new streaming service this month at the worldwide developer conference in San Francisco. But according to new reports, the tech behemoth has secured one last high-profile deal before it unleashes the revamped product originally owned by music-industry exec Jimmy Iovine and former N.W.A rapper Dr. Dre.
Drake has been offered $19 million to become an exclusive guest DJ with iTunes Radio, says the Post, with Rolling Stone confirming the report through a source "close to the situation." Negotiations are also under way with Pharrell and David Guetta. Zane Lowe, a celebrated BBC Radio host, was tapped as an iTunes Radio DJ earlier this year.
iTunes Radio, similar to Pandora, is one of several properties Apple is using to revitalize iTunes and become a dominant force in the streaming market. Reports claim Apple will offer its streaming service for free for the first three months before eliminating the tier for the standard $10 monthly subscription.
The pace at which a new product, exclusive deal, or service meant to disrupt the streaming market is introduced has become dizzying, and the celebrity-baiting is the worst of it. Since all of the products are more or less the same, streaming companies have resorted to attaching high-profile names to their products, hoping that that will drive up their user bases. The most horrifying example of this was the moment when several of the biggest pop stars in the world traipsed onto a stage in New York to introduce Tidal.
Now Apple is making the same mistake, dipping into its substantial coffers for exclusive celebrity endorsements that will ultimately end up offering little more than any other streaming competitor. But Drake isn't going to make Beats Music or iTunes Radio any better than Tidal or Spotify or Pandora. The streaming service that's going to survive this bloodbath isn't the one that offers the biggest celebrity but the best product. Apple — every streaming company — needs to stop hiding behind stars.
UPDATE: Billboard reports that both Drake and Williams have been confirmed for the iTunes Radio deal, but the Post's $19 million price tag is false, according to a source. Billboard also reports that Drake was tapped as a Tidal shareholder but backed out days before the new streaming service launched in March.