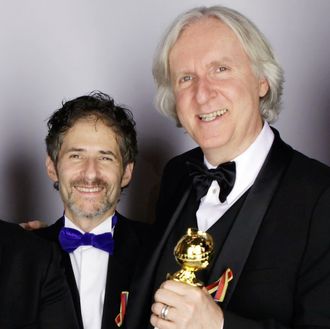 James Cameron and James Horner.
Photo: Jeff Vespa/Getty Images
Director James Cameron and the late composer James Horner worked together three times: on Aliens, Titanic, and most recently Avatar. In a THR as-told-to, Cameron says they "got off to a bad start." Horner had overbooked himself and completed the score for Aliens in a day and a half, leaving Cameron and his team to edit it. Still, Cameron wanted to work with Horner for Titanic and he "totally committed" this time around. It paid off, with Horner winning two Oscars for Best Original Score and Best Original Song. Before it went on to become the tune of the late '90s, Cameron remembers crying the first time he listened to Rose's theme.
Cameron's last memory of Horner was also Titanic-related. Earlier in April, the orchestra at Royal Albert Hall played the entire score live to the movie. "It was emotional and I'm glad that was my last personal memory of James," said Cameron. "They had to subtitle the film because when the orchestra was playing, you couldn't hear the words. I thought, 'This is how James would have imagined it.'"