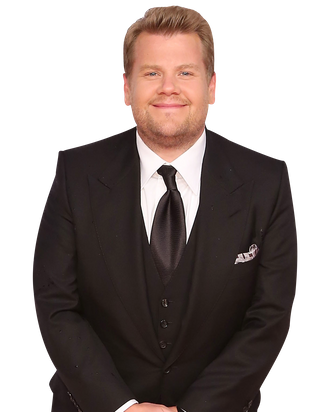 If YouTube hits are the new Nielsen ratings for late-night programs, then The Late Late Show With James Corden is off to a pretty fast start. Barely two months after launching, CBS's reinvention of its 12:35 a.m. talk show has already spawned 17 clips with over 1 million online views apiece (seven of which boast more than 5 million plays). While some smart guest-bookings have played a part in these viral victories — One Direction and Justin Bieber are guaranteed to draw online eyeballs — Corden's new show has also generated big buzz with some seemingly simple ideas: Jason Alexander adapting George Constanza's answering-machine message for Kat Dennings, or Katie Couric pulling a prank on her British-born host.
But while Late Late Show is playing the viral-video game well, it hasn't been completely obsessed with finding Big Moments. Instead, Corden, bandleader Reggie Watts, and exec producers Ben Winston and Rob Crabbe have brought a spirit of experimentation to the time slot, taking a cue from former 12:35 a.m. icons such as David Letterman and Conan O'Brien. In addition to the now-standard shtick with celebrities (like doing karaoke in a car with Bieber or Mariah Carey), the show has made room for some totally left-field bits. During week two, an entire episode was shot on location at the house of a random dude in LA. A few weeks ago, a faux fire broke out on set, prompting guests Helen Hunt and Nicholas Hoult to tape a segment on the roof of CBS Television City. (Nobody ever mentioned the fake blaze, which was reported as if it were a real fire by some news outlets.) And Watts has been allowed to be his weird, wonderful self — introducing each guest with an ad-libbed song, or humorously harassing them with a completely random question.
These early shows have also done decently in the old-fashioned Nielsen ratings, with many of the viewers who flocked to see David Letterman's long good-bye sticking around to check out the new guy. This week, Corden returns for his first original shows in the post-Letterman era. In his first extended one-on-one interview since taking over The Late Late Show, Vulture spoke with Corden for nearly an hour about how the new gig is going so far, what it's like fronting a late-night show in a world where linear TV is declining, his relationship with Watts, and why he believes Making the Band might be the most important TV show of our time.
So you've been on the job for about two months now. Are the natural nerves that come with a show like this starting to ease up? You seem to have exhaled a little bit. 
Very much so. I've never done anything like this before. I've never done a show similar to this in any way, really. I'm very proud of the shows that we've done so far. We found our feet a lot quicker than I ever thought we were going to, and I'm very proud of that. I mean, historically, these shows only get better. I feel a lot more confident in those interview scenarios. But there's also an element of guests feeling more confident and comfortable because of a greater understanding of the show that they're coming on to. Our biggest hurdle at the start was trying to get people to book the show because, understandably, lots of people said, "We'll wait and see what the show's like, and then we'll come on." 
Plus, with your show, you've added in a new element: All the guests come out together. That's common in the U.K. but not here. Have PR folks been concerned about their clients not being the focus of attention?
What makes it easier is, we say to them that if we have two guests, there will be a minimum of two talk segments. If we have three guests, there will be three talk segments. So what we are able to say to guests is that your time will be the same, it just might be split. And the truth is, it might be better than coming out and just, you know, telling your anecdote.
The best moments for me are when the conversations take an organic turn and people just start having a conversation between themselves. When those moments come about, I really enjoy sitting back and watching two or three people who I never thought I would get to be in the room with having a discussion.
You've also found a unique way to introduce guests: You check in with them in their dressing rooms at the start of the show and do a little shtick with them. Is that banter preplanned?
No, we never, ever work with them about anything. It should feel organic and spontaneous somehow. When we would talk about this show early, we would only ever talk about it in terms of atmosphere. We would never talk about bits or stuff or things. We would just talk about it in terms of, "What does it feel like?" We would always want it to feel like, "I don't know what they will do tonight, and I don't know what it will be." That [check-in] is part of that, really. [We] open the door, and Joel McHale is doing someone's hair. Nick Kroll is eating a flower. Julie Chen is spraying Champagne everywhere. Those things just make it so much fun. We want it to feel like the after-party … after Stephen's show.
There's been a lot of randomness and experimentation in a lot of the early studio bits, as well as the remotes: musical theater in crosswalks, a fake fire that forced the show to move outside for a segment. You've noted in other interviews that you didn't grow up watching Letterman or Conan. But did their early work inspire you somehow? It seems like it has.
I can't tell you what it means to me that you would even see any likeness between [me and] those two phenomenal broadcasters and comedians that you mentioned. Those shows, I've watched a lot. I didn't grow up with them, but I've watched a great deal. And in no way are we ever going, "Oh, that worked for them. Let's do that." The whole notion of the show is not about playing up my strengths; it's just ignoring my weaknesses. That's the truth of it. The monologue, for example. I don't know if it's in my skill set to come out and tell, like, 15 jokes. What we've found is that in the monologue, if you can even call it that, I find it more fun if you're just sort of talking around a topic, or one or two things. Just talking about it a little more. And those things where we're getting out on the street, they're just fun. I want to get out there and meet people. Even within our own audience, I want to get out and be amongst them. I never, ever want to feel the other side of the line. I don't want to feel like I'm a television host — because I don't think that I am. What I really want to feel like is: I am you, I just happen to be here.
Is that one reason why you don't sit behind the desk for most of the show?
Yeah. That, and it just helps more in having multiple guests out. We did four test shows — and I did do all of the interviews behind the desk. And after, we were talking, myself, Rob and Ben, and [CBS chief] Les Moonves, actually, and it just felt like for that second or third person on the couch that the desk became a barrier somehow. You're further away from them. And actually what you need to do is be inclusive and be with them.
You said you don't think of yourself as a talk-show host. But you are an actor. And in past interviews you've said you're often at your happiest when you're acting. Do you ever approach your job as a role, and the role is "talk-show host"?
I don't think you can. I almost think you can as a guest, in a way. When you're a guest on a show, I've found it very helpful when I've done talk shows [in the U.K.] to go, Right, what do I have to do? I just have to act like the perfect talk-show guest. Before we even started the show, back in January, I would talk about that, actually, that you can probably be somebody else once a week or twice a week. [But] if you're in someone's home four or five nights a week for 44 weeks of the year, I don't know that if you present yourself as something else, that the mask doesn't slip somehow. I feel like it would be a con somehow to pretend to do anything. I mean, obviously, [being a host] is not a natural state. Mostly I'm at home eating potato chips, laying on the couch, staring at the corner of a rug. And I don't think we should televise that for an hour. But I feel like the most terrifying thing about these shows is that it really just comes from the core of you.
I had like a real freak-out, like a genuine freak-out, on our second-to-last test show. Because it's such a team effort on this show, the whole thing, every single inch of it, you know? But as the [taping of the] show gets nearer and nearer, there's a moment where people tap you on the shoulder and go, "Good luck out there." And you're just on your own.  You're behind the curtain, and you go, "Oh, okay. I'm just on my own now."
Is it more or less terrifying than doing 500 nights of a Broadway show?
No, it's the exact same fear. I felt very similar in that moment to the first performance of One Man, Two Guvnors at the National Theatre. The play started for about eight minutes before I came out, and my character is talked about for a good part of that eight minutes. I have to enter through a door, so I just stood behind a door — and it's terrifying. I can remember thinking I would swap places with anyone right now, to just not have to push this door open and walk out. And you feel very similar behind that curtain.
That terror is starting to go away, though?
What's happens is now I'm behind the curtains, thinking, Oh, my God, this is just the greatest privilege I could ever know. That curtain is going to open, and I'm just going to talk to people, and I'm going to try to make them laugh, and then I'm going to try and have some fun — and this is my job? It's thrilling.
One of Conan O'Brien's writers went on a bit of a Twitter rant a few weeks ago, bemoaning the trend of late-night shows doing bits that go viral online. Did he have a point?
I think this is a real odd thing. Because as far as I can see — and I'm saying this as someone who knows nothing and is predominantly an idiot — I don't think that late night has actually changed. All that's changed is the media in which people share and consume stuff. Because I honestly think if the internet and Twitter existed and David Letterman was doing elevator races or throwing stuff off the roof, that these would have been clips that people would have shared virally. I'm almost certain of it. The truth is, if we want to have a great viral hit, then I should just strip off naked and run down Sunset Boulevard. I'd get arrested, the pickup would be huge, and virally, it would probably be our biggest and most successful thing. So what you're not chasing is viral hits. You're chasing a great show that people are excited by. It's thrilling that today, right now, we live in a world where people can share things with their friends around the world and say, "Did you see this last night?" I have friends who love Jimmy Fallon, and they have never watched a full episode of The Tonight Show because it doesn't air at home. And yet they are [fans] because they've watched these moments.
He also seemed upset by the style of today's shows, where hosts and guests are super chummy. He talked about "Prom King Comedy."
I don't know. I didn't grow up here, but all I really feel like I know is that I would never have been the Prom King. And I'm not sure Jimmy Fallon would have been the Prom King. That phrase I find odd. You're talking to the kid who used humor to not get bullied. Because if you're big and you're chubby at school, you've got two options: You can't run away, because they'll catch you.  So you can either make them laugh — or that's it, you're done.
There was a really great interview I read with Jay Leno where Jay [mentions] a piece from a newspaper written seven years after Johnny Carson started The Tonight Show. And the headline of the article was, "When Is Jack Paar Coming Back?" What this piece said was that Jack Paar would sit and actually talk to people, and all Johnny Carson does is skits and bits. And all I thought when I read that was: This isn't about the change of it. This is just that people in different generations have their guy. They have their guy, and it's a very intimate and personal connection. And of course, when they go, the next person is not going to be the thing that you want, because how can it be when someone has been in your front room or bedroom every single night?
It does seem like late-night hosts today are a bit more warm and fuzzy than they had been. Carson and Letterman were notoriously grumpy, particularly off-camera. Your predecessor, Craig Ferguson, wasn't afraid to be snarky. Today, most of the folks hosting late-night shows on broadcast TV seem pretty upbeat and not into being snarky for snark's sake.
I just think we live in a different world today. We lived in a time where — there was a huge amount of comfort in [the era of Letterman]. And you watch the news now, and it's just tough, right? And so I think perhaps the change in [tone], of what people are responding to, is that maybe, just maybe, our job right now is to just make people smile and feel a little better before they fall asleep. Because I do believe the world is a different place from what it was when Letterman started, or when Johnny Carson was on. I do believe it is a different time and a different feeling, and I think that's perhaps why people are responding to what they see as "fun." Can I be sure? I don't know, but that's just my hunch.
I certainly can't imagine Dave or Johnny ever admitting to loving pop music as much as you have. I had read that you were super into the boy-band genre before you premiered here. But even that didn't prepare me for when you mentioned O-Town on the show.
I just think they're very, very talented. [And] Making the Band is the single greatest TV show anyone's ever made, let's be clear about that. But more important than that, if you and I were making a mockumentary, a Spinal Tap version of boy bands, and we came up with the idea of writing our first single and calling it "Liquid Dream," we would go, "You know what, it's too much." No one would believe that. You cannot have a song about ejaculating in your sleep. And there it is — worldwide hit, "Liquid Dream." It's amazing.
I had never put two and two together until now, but thank you for doing that.
You never worked it out? Oh, my. "Liquid Dream." What else could a liquid dream be?  I mean, maybe it's not. Maybe "Liquid Dream" is a completely different name. 
They're not still together, are they?
Oh, they've reformed, but without Ashley. Eric, Stan, Trevor, Jacob. I'm a big fan of O-Town. I went to see them live in Manchester like years ago.
I watched Making the Band, but my interest in O-Town ended after the show did.
Well, you lost out.
Let's talk about Reggie Watts. You two seem, on one level, like such completely different personalities. And yet the marriage seems to be working out so well.
I just love him. And the truth is that he just has free range to do whatever he wants. He picked his band. He was just on a list of one for me, an absolute list of one. There was just no one else. People fought, and I'd just go, "I can't, I just can't, until I've really given a great shot at trying to get Reggie to do it." You know, it is not like I called him and he went, "Yeah!" He was like, "Hmm, okay, interesting." It was only through just chatting about it. I just said, "Reggie, this job could be whatever you want it to be. If you say to me, "I've got an idea, can I do a song Monday night?" I'll go, "Yeah, done." So we never work anything out, we never really talk anything through — and we get along exceptionally well.
You and the producers don't want to put Reggie in a box.
It would just be such a waste of his talent. Like, did you see the song he did about 4/20?
I did!
It was just amazing. I have never felt more proud of the show. It was like, "That's it. That's the show." It starts somewhere, and it goes somewhere else, and you don't know why, but you're enjoying it. I [sometimes] wonder whether to call him a sidekick or a bandleader. [But] he is none of those things. He's just Reggie. And I feel like the luckiest person on the planet that I just get to sit and watch him every night.
His nightly question to a guest is so brilliant. Not every guest knows what's going on with it.
Sometimes you can see the fear in people's eyes when it's coming. And it's great. 
"Carpool Karaoke" has already become something of a signature bit for the show. Just a logistics question: Is it tough driving and performing at the same time? I'm worried you're going to get into an accident.
Well, listen: We're driving in Los Angeles. And you never drive more than 15 feet at a time. I'm never going to try "Carpool Karaoke" in New York. That would be a very different thing. Mariah Carey's one we just drove like five or six blocks round where she was staying at the time. But Jennifer Hudson, I picked her up from her hotel and drove her to work because she was going to do American Idol. So we genuinely drove her to work, with some detours in between.
Almost all of your guests to date have been actors and musicians. Would you like to eventually work some politicians or authors into the mix?
I think it could evolve there. I think that could be nice. A huge movie star doesn't necessarily make a great interview, you know? But I've loved all of the guests so far. It's been terrific, and what I've really enjoyed was just the mix of people on the couch. I mean, having Simon Cowell and Michael Douglas together felt like just a really great interview. I hope that politicians come our way, because I could think nothing greater than sitting a politician with a movie star with a singer.
With Letterman off, your lead-in for the summer is reruns of crime dramas. Is there any part of you that maybe hoped CBS would've moved you up to 11:35 p.m. for the summer —  just to get more exposure before Colbert comes on?
I don't want to. I have no interest. What could possibly come from it? If it goes really well, then I'm just bummed in September. And if it goes terribly, then I'm the guy, "Ah, well he can't do it," when in fact we're only 25 shows in. It's ridiculously early days for our show. It's crazily early, if you think about it, actually. We have a very long way to go, so there's no chance of us doing a show at 11:30. We'd be so stupid.
True. But now the audience could fall a bit without that lead-in. Are you at all worried about that?
We've got a really long road coming. And summer is going to be odd because we don't follow a show. That's going to be a strange thing. But actually, I hope that we'll be grateful for that in the end because we'll sort of be able to experiment a little and maybe work on things that don't work.
When you're putting together each show, do you aim it toward the audience watching at 12:35 a.m.? Or is that too old-school?
We just can't think about the show in terms of time slot. That's just archaic. If we make a great show, people will find it, and people will talk about it, and people will watch it. It's like approaching a movie that's got a budget of $6 million, going, "Well, you know, it's only a $6 million film." Nothing makes me happier than to think that someone somewhere sits down on a Saturday afternoon and goes, "Oh, I know. I'm going to watch The Late Late Show With James Corden."
A lot of recent late-night hosts, from Letterman to Jimmy Kimmel, dreamed of doing this job for years. And once they got it, the goal was to stay on for decades, just like Carson. Is that your plan, too? Do you want to host a late-night show for most of your career? Or is this a gig you could do for five or ten years and then be perfectly happy to move on to something else?
It's not my choice. I can't even begin to think about anything like that, really. All I know is I'm really, really, really enjoying it. And all I want to do is make this show like a thing, like a moment, that people enjoy. And if we can do that, then we'll see about further down the line. I feel very conscious of the fact that there will come a point where I will start to miss doing some acting. So I hope I'll be able to do a little of that … and writing. But mostly, I don't think it has anything to do with me. Maybe one day someone will call and say, "Oh, we'd like you to do this job a little longer than we thought." But until that day comes, all I want to think about is this show, today. I won't even allow myself to think about tomorrow. I just hope I'm getting better every show. And you know, I'm excited to see where we'll be at the end of the year.