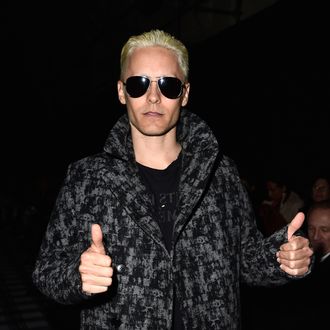 Jared Leto.
Photo: Pascal Le Segretain/2015 Getty Images
The line between reality and surreality has blurred for Jared Leto, as it seems the actor is getting really into his Suicide Squad role. Adam Beach, who plays Slipknot in the super-villain film, told E! that during the beginning of production, when Leto wasn't around much, he sent his co-stars a slew of Joker-esque gifts. Margot Robbie, who plays Harley Quinn, received a love letter and a "beautiful" live rat; Will Smith, who will take a turn as Deadshot, got ammunition; and the whole cast shared a dead hog. "Basically what he said was, 'You guys, I can't be there, but I want you to know I'm doing my work as hard as you guys,'" Beach explained. Leto also sent the squad a video of him in character, which apparently blew their minds. Trill.
Here's Beach describing the insanity on the red carpet. Method gift-giving indeed:
Between this weirdness, the look, and that leaked set video, Leto's Joker is becoming beyond fascinating. "He encompasses this beautiful man and he shows it in, 'Hello, how are you?'" Beach added. "But in an instant, he goes to psychotic behavior where you're in fear." See him in action next August.