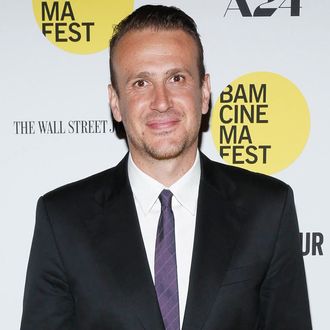 The bookish Jason Segel.
Photo: Rob Kim/Getty Images
Infinite Jest, David Foster Wallace's long, dense, and brilliant masterpiece of American fiction, can be daunting to start (the paperback edition is 1,079 pages, including the infamous footnotes). In order to play the author in the upcoming The End of the Tour, Jason Segel went through Wallace's oeuvre, including tackling Infinite Jest with a reading group. "Our goal was to read 100 pages a week," Segel told Vulture at the opening night of BAMcinemaFest Wednesday night. "And then every Sunday we would meet up, and we would talk about what we had read that week. It took about two months."
But his advice to readers who want to tackle the book is just to read a little bit every day to let it marinate. "I think you have to read it in doses, in small chunks," he said. "I would say 45 minutes a day. What I found was any longer than that, I would read three or four pages and realize I had no idea what I was reading, and I would have to go back." Add it to your summer reading list!