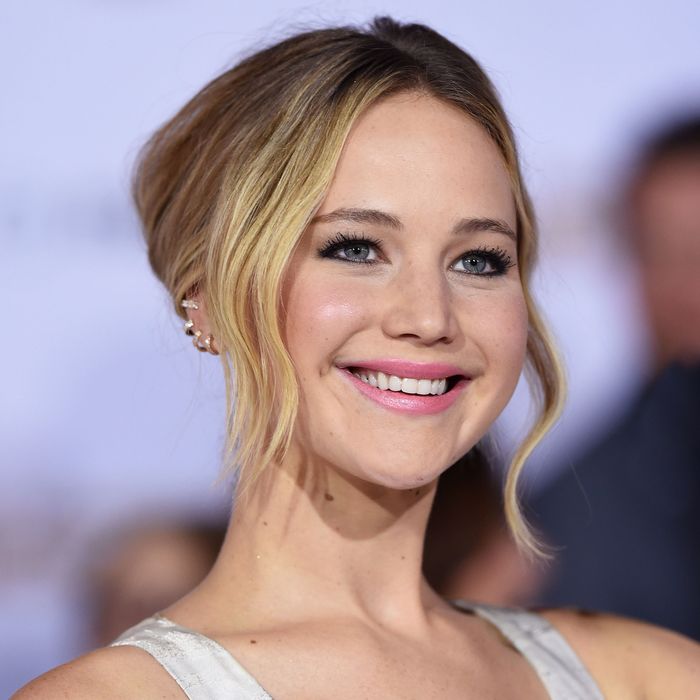 $20 million is a bargain for a smile like that.
Photo: Axelle/Bauer-Griffin/Getty Images
All major movies involve some behind-the-scenes salary negotiations, but Sony's sci-fi drama Passengers has endured more than its fair share of paycheck-related turbulence on its way to a green light. Two weeks ago, The Hollywood Reporter's Kim Masters reported that though Sony had landed the red-hot Jennifer Lawrence and Chris Pratt to star in the spaceship-set romance, studio head Tom Rothman was balking at Lawrence's $20 million salary demand. Yesterday afternoon, Masters wrote that Lawrence had indeed secured her paycheck, measured against 30 percent of the profits after the movie breaks even.
I've noticed that many of the writers who've picked up Masters's story over the last two weeks have done so with a can you believe that tone of incredulity, as though Lawrence might not be worth her rare payday. They're not alone: Masters reported that even Rothman "was heard wondering aloud" about Lawrence's actual star power during budget meetings.

Allow me to allay their fears: If anyone in Hollywood is worth a $20 million paycheck, it's freaking Jennifer Lawrence.

It's not for nothing that Jennifer Lawrence landed the No. 1 spot on Vulture's Most Valuable Stars list last year: By practically every metric by which an actor can be measured, she comes out on top. The 24-year-old stars in two of Hollywood's biggest franchises, thanks to The Hunger Games and X-Men, and has been nominated for three Oscars, winning one for Silver Linings Playbook. She enjoys sky-high likability, terrific recognition ratings, and four-quadrant appeal in an era where new young megastars are very hard to come by. She is the only first-billed actress who has made more than one movie that's grossed over $400 million domestically (the few men who've managed that significant feat are comic-book heroes Robert Downey Jr. and Christian Bale), and she may add a third to her tally if the final Hunger Games movie hits its expected number this winter. Simply put, she's the most significant name that Sony could have possibly cast in this role.

Compared to Lawrence, other stars have gotten $20 million paychecks with much less scrutiny, and with far more meager results. Liam Neeson received $20 million for Taken 3, which didn't even crack $90 million domestically, and Sacha Baron Cohen got at least that much money (and by some accounts, even more once scripting and producing fees were factored in) for 2012's dud The Dictator, which grossed a measly $59 million in the States. When Baron Cohen inked his megabucks deal, it was greeted with rah-rah, "go Sacha" enthusiasm at Deadline; I can't help but wonder if the difference in tone now has something to do with Jennifer Lawrence's gender. If, say, her frequent co-star Bradley Cooper had upped his quote to $20 million on the back of last year's megahit American Sniper, would his reasonable request have generated nearly the same amount of scoffing?

To be fair, there are a few legitimate reasons that Rothman might have dug in his heels over the size of Lawrence's paycheck. After replacing Sony chief Amy Pascal in Feburary, Rothman may have had misgivings about spending big so early into his tenure at the studio, fearing that other stars might come to him seeking the same salary. (To them, I'd recommend that Rothman simply say, "You're not Jennifer Lawrence.") It's also possible that since $20 million deals are typically reserved for franchise paydays, and Lawrence is not likely to take on another series anytime soon after wrapping both the Hunger Games and X-Men movies, Rothman wanted to bring her future salary demands down to a more acceptable standard so that Lawrence wouldn't expect the studio to pay $20 million for her next non-sequel, too.

But you know what? Fuck that. Lawrence is the rare star who has proven herself bankable outside her major franchises and is equally adept at action, drama, and comedy; with such an expansive wheelhouse, she more than deserves a paycheck that puts her on equal footing with stars like Leonardo DiCaprio and Matt Damon, especially since Passengers is a tentpole movie that will attract significant foreign interest on the basis of its big names and outer-space setting. Sony surely wanted Lawrence to take a reduced paycheck up front in favor of a less-risky backend deal that would pay her a significant amount after the movie's profits exceeded its costs, but even in negotiations like those, Lawrence has been stiffed before: The Sony hacking deal revealed that she got fewer profit-percentage points for American Hustle than her three male co-stars (including the less-valuable Jeremy Renner), and when Lawrence asked for a bigger share of the pie for her upcoming David O. Russell vehicle Joy, Fox proved so stingy that the project "nearly fell apart."
After Amy Pascal left her Sony post, she was asked about how little she'd paid Lawrence for American Hustle. "People want to work for less money, I pay them less money," Pascal replied. "Women shouldn't be so grateful. Know what you're worth. Walk away." Message received: Lawrence was ready to walk if she didn't get that top-tier paycheck for Passengers, and director Morten Tyldum indicated he'd leave the project, too, if he lost his leading lady. Some people may take issue with the fact that teachers still struggle while Lawrence stands to earn an exorbitant amount for Passengers — even though it's the kind of salary that has been given to stars for nearly two decades, since Jim Carrey first collected a $20 million payday for 1996's The Cable Guy — but I question their sudden interest in income inequality when it comes at the expense of a young female star. For as long as Hollywood is willing to hand out $20 million, Jennifer Lawrence more than deserves it. Sony can take that one to the bank.