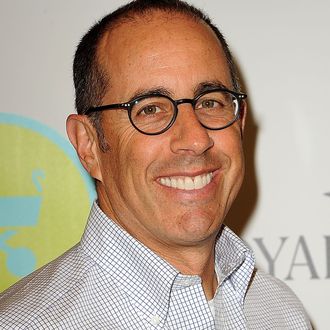 Photo: Chance Yeh/FilmMagic
Jerry Seinfeld has said it before, and he'll say it again: He's not really into all this p.c. stuff. In response to criticism last year that his show Comedians in Cars Getting Coffee was too white and too male, he told BuzzFeed, "I have no interest in gender or race or anything like that." He continued that line of thought when talking to "The Herd"'s Colin Cowherd about performing at colleges. Seinfeld says he doesn't really do colleges, but he's heard not to go near them. He brought up his 14-year-old daughter Sascha as an example:
My daughter is 14. My wife says to her, "Well, you know, in the next couple of years, I think you're going to want to be hanging around the city more on the weekends, so you can see boys."

And you know what my daughter says? She says, "That's sexist."

They just want to use these words. "That's racist. That's sexist. That's prejudice." They don't know what the [bleep] they're talking about.
When asked if it hurt comedy, Seinfeld said it does. So, yeah, college tours with Dad are going to be a blast for Sascha Seinfeld.