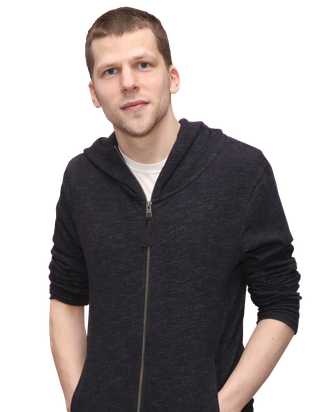 Photo: Walter McBride/Getty Images
It's a busy summer for Jesse Eisenberg. June 2 marks the opening of The Spoils, the latest play he's written and is starring in, produced by the New Group at the Pershing Square Signature Theater. Eisenberg plays a spoiled, socially maladroit grad-school dropout with a striving, earnest Nepalese roommate whom he both hangs onto like a puppy and treats horribly — racistly, actually. (Thankfully much of the play is a dinner party full of crackling good dialogue among a talented cast of familiar 20- and 30-something urban types: the good-natured banker bro, the hardworking South Asian female doctor, the do-gooder teacher of underprivileged kids.) Plus, he's got two new movies coming out — and a book! Vulture talked with him about all of his new projects.
So where did this new play come from?
It started by me writing some dialogue between a more horrible version of myself and a more humorous version of my friend Kalyan from Nepal, a teacher who wrote a book about social justice. It brought up issues of entitlement and it was funny, so then I brought in other characters and took my own character to his logical conclusion of hitting bottom.
What was it about your friendship with Kalyan that sparked you to write a play?
I was in his house in Nepal, and on his bookshelf he had a favorite book, A History of the Jews, and I thought, He knows more about my culture than I do. I've written before about entitlement and the complacency of luxury, and I felt a little pang of self-disgust that I was unaware of something he was aware of.
Like in your past plays, Asuncion and The Revisionist, you've cast yourself as another grating neurotic. What's up with this pattern?
In this new play, I set out to create a character that does horrible things but whom I can relate to. He's broken, which is ultimately more dramatically compelling behavior.
I didn't like him or feel sympathy for him.
That's interesting, most people I speak to after the play find themselves sympathizing with him. But it's not my goal that you walk away feeling bad for the character or for me as an actor. I'm just trying to create something that feels real and dramatically compelling.
I couldn't figure out if your character had a serious mental illness, like bipolar or borderline personality disorder, or was supposed to be a metaphor for white Western privilege and entitlement.
Mental illness would make him lose dramatic potency, so I think the latter is more accurate. He's a representation of what I feel happens to those who are given the luxury of complacency and fall through the cracks of a competitive heterogenous society like New York, with people with drive coming here from all over.
But he actually seems kind of sociopathic, not just unmotivated.
That's not how I see him.
Is there a germ of the real you in all these characters?
Yes, feeling alienated and on the fringes of all normalization. But I take the character to an extreme dramatically. He can't engage with others in a way that seems healthy.
You have a book coming out in September, Bream Gives Me Hiccups: and Other Stories. Can you explain the title?
It's mostly new short fiction. The title story is about a boy whose mom is recently divorced, and she only takes him to fancy restaurants because the father has agreed to pay for anything she does with the son. And bream is a fish I've only seen at fancy restaurants.
Okay, and you have two films coming out this summer. First, at the end of July, The End of the Tour, in which you play the journalist David Lipsky, on the road with the David Foster Wallace, played by Jason Segel.
Yeah, it's about their week together on the road while Wallace was promoting Infinite Jest on his midwest book tour, based on Lipsky's book about it. My character was less known than Jason's, so I had some more freedom with it.
And in late August you have American Ultra.
I play a sweet, lazy stoner in the middle of West Virginia who's about to propose to his girlfriend, played by Kristen Stewart, but this CIA woman tells me I was a sleeper agent trained in this secret government program and people are trying to wipe me out. It's more mainstream.
You grew up in Queens and New Jersey and now you live in Soho. How's New York treating you these days?
I live in a bubble on location most of the time and don't know too much about New York. The Citi Bike seems to be a nice addition to the city. I ride a bike up to the theater every day.
How do you feel when riding a Citi Bike?
Um … it's convenient. I guess if you're taking mass transit you're involved in a whole system of other people's decisions, but a bike is kind of autonomous.
Do you have a favorite New York food?
I eat the same thing everyday. I make shakes out of frozen fruit, vegetables, and nuts. And onstage in this play, we have a Nepalese meal that's actually Indian food that a nice restaurant near the theater donates.
So you actually eat your real-life dinner onstage every night?
Yes. Someone in the play gets their full day of food there but I don't want to embarrass them by naming names.