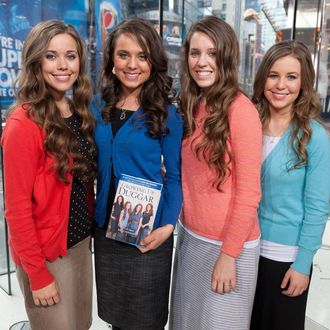 Jessa (left) and Jill (second from the right) Duggar.
Photo: D Dipasupil/Getty Images
Tonight the Duggars will appear in their first interview since it was revealed Josh Duggar, the family's eldest child, molested several young girls as a teenager. Ahead of its interview, Fox News has identified Jill and Jessa Duggar as two of Josh's victims. "Megyn Kelly spoke exclusively with parents Jim Bob and Michelle Duggar, as well as two of the victims, their daughters Jessa and Jill, regarding their son's molestation allegations," the network said in a statement to Us Weekly. The news confirms earlier reports that Josh's sisters were among his victims. In a preview of the interview, Michelle Duggar says, "As parents we felt, 'We're failures.'" The interview will air on Fox News' The Kelly File at 9 p.m. Eastern.