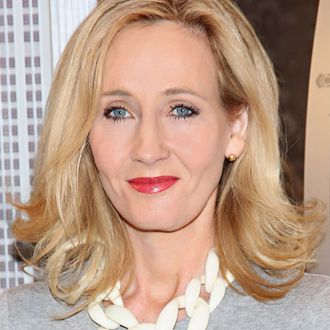 Photo: Cindy Ord/Getty Images
Although she's long finished writing the series, J.K. Rowling seems to delight in dropping ad hoc Harry Potter clues on Twitter. Most recently, the author tweeted about a key plot point in Fantastic Beasts and Where to Find Them: Main character Newt Scamander will meet American wizards who were educated at an American school of wizardry. In other words, there's an American Hogwarts.
Rowling was casually responding to fans' questions when she let slip the existence of a U.S. school.
In other words, [name] in [not New York] definitely exists! Rowling then revealed that the school's name is "of immigrant origin" and the type of magic practiced there has to do with Native-American culture.
She's understandably evasive, so eager Potter fans will have to wait until Fantastic Beasts is released for full details. Rowling is writing the screenplay (her first), so, who knows, she might be making everything up as she goes along, American Hogwarts included.