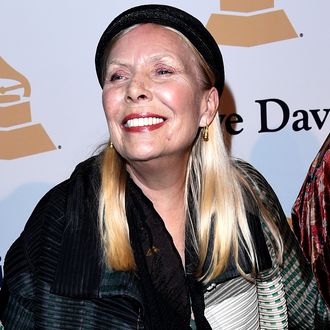 Joni Mitchell.
Photo: Jason Merritt/Getty Images
A more positive update about Joni Mitchell hit the internet Sunday, a couple of days after David Crosby told HuffPost Live that the singer suffered an aneurysm and couldn't speak. "Joni did in fact suffer an aneurysm. However, details that have emerged in the past few days are mostly speculative. The truth is that Joni is speaking, and she's speaking well," a statement clarified on her site. "She is not walking yet, but she will be in the near future as she is undergoing daily therapies. She is resting comfortably in her own home and she's getting better each day. A full recovery is expected."
Unfortunately, conflicting reports have surfaced over the last few months regarding the singer's health — à la Harper Lee's confusing condition, which has certain parties saying one thing and other friends another — but this latest update, if true, is an uplifting, welcome step in the right direction. The statements posted on Mitchell's site are supposed to be published according to the wishes of "those closest to Joni, with the interest of privacy, medical confidentiality, and Joni's well-being of highest priority." They are usually, if not always, approved by Leslie Morris, who is with Mitchell in the hospital and is the musician's conservator. You can read more of those updates here. Get well soon, Joni.