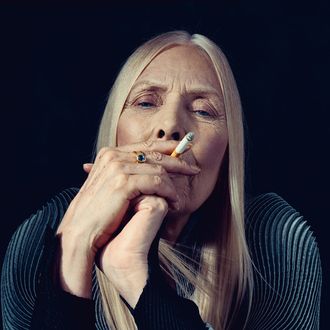 We haven't had a genuine update on Joni Mitchell in a while, though rumors have eddied around the internet. Mitchell, 71, has been in the hospital since late March after reportedly being found unconscious at her home. Now her good friend 73-year-old David Crosby has told HuffPost Live that Mitchell has a long road to recovery ahead of her.
"To my knowledge she is not speaking yet. She is home, she is in care, she is recovering," he said. "She took a terrible hit. She had an aneurysm, and nobody found her for a while. And she's going to have to struggle back from it the way you struggle back from a traumatic brain injury."
You can watch the video interview below, via the Huffington Post.