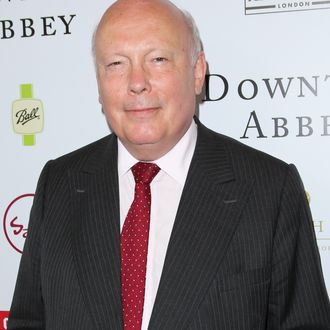 Edith's fate is in your hands, Julian Fellowes.
Photo: Paul Archuleta/FilmMagic
In March, producers made a grave announcement that the upcoming sixth season of Downton Abbey would be its last. "It's very much a decision that's been made by the producers and all of the actors. We certainly weren't canceled by any of our networks, that's for sure," executive producer Gareth Neame said at a For Your Consideration event at the WGA Theater in Beverly Hills. "I'm sure we could have made another season or two beyond this … [but] I think we all felt about a year ago that this would be the classic 'quit while you're ahead.'"
Creator Julian Fellowes elaborated: "Originally, we had thought in terms of five years, and then we realized we didn't have enough space to wrap everyone up, and so it seemed a good idea to do one more. We didn't ever think we were going to go on to 11 years, and I think it's good that people are sorry rather than thrilled." "We were all optioned for three and then we decided to do five," said Hugh Bonneville, who plays Lord Grantham. "Julian said he wanted one more crack of the whip to bring the stories and characters to an end in a satisfying way."
Speaking of, will Edith finally get a happy ending? "Edith was such a leitmotif of misery," said Fellowes. "I was in New York not long ago, in Barnes and Noble, and this woman was following me around and I could sort of feel her presence. Finally, I turned to her and said, 'Can I help?' and she looked at me, and her lip quivered for a moment, and she said, 'Please let Edith be happy!' And in those moments, you realize you've touched something. We wanted to bow out while they still felt like that." So, maybe?