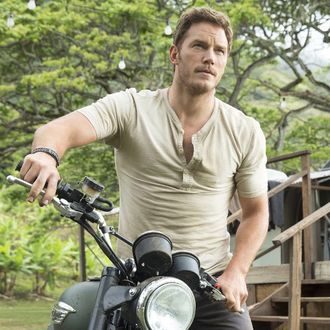 Photo: Chuck Zlotnick/Universal Pictures
Jurassic World, the fourth entry in the no-longer-dormant film franchise started by Steven Spielberg, had a monstrous opening weekend. With a best all-time $64.1 million Friday-only gross, a massive $204.6 million domestic weekend haul, and a new all-time best $511 million worldwide take, the film slaughtered its competition (like the Indominus rex slaughters everything it sees). You can bet your butt that they're gonna make more movies (and more dinosaurs), and Chris Pratt is allegedly signed up for 38 sequels, or something.
The rest of the weekend box office was considerably less exciting. Spy, Melissa McCarthy's well-received espionage comedy (and last week's No. 1 film), came in second, making a comparatively paltry $16 million, bringing its total to $56 million. San Andreas, the Rock-starring disaster epic, added another $11 million to its now $119.3 million, while Pitch Perfect 2 actually moved up one spot from last week, making $6 million, bringing its total to an insane $170.7 million. Entourage, almost universally loathed by critics but adored by its unrepentant fans, made $4.3 million, bringing its total to $25.8 million.