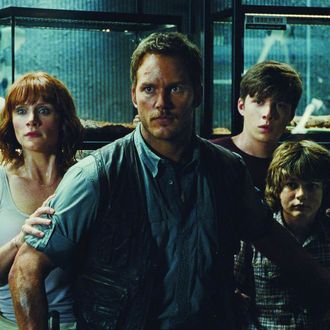 Photo: Universal Pictures
Like the lab-engineered Indominus rex and its insatiable appetite, Jurassic World continues to devour and destroy everything that gets in its way, chomping its way to No. 1 at the box office for a second straight week. By pulling in $102 million this weekend, Jurassic World joins Joss Whedon's The Avengers (2012) as one of the only two films to gross more than $100 million on two separate weekends. Given it already has $981.3 million, it'll probably become the fastest film to break the $1 billion mark.
Pixar's Inside Out, which has been reportedly making grown-ups bawl like babies around the country, made $91 million, the second-best opening for a Pixar film behind Toy Story 3's $110.3 million in 2010. It's also the highest gross for an original property, meaning a film that isn't a sequel, remake, reboot, retread, or non-sourced work, beating James Cameron's Avatar, though that film opened on 500 fewer screens. Around the globe, Inside Out opened to roughly 42 percent of the world, and its international rollout will continue in the coming weeks.
Spy pulled in another $10.5 million, bringing its impressive domestic total to $74 million, while San Andreas added $8.2 million to its now–$132 million haul. On the indie side of the spectrum, the quirky Sundance hit Dope placed fifth this weekend, making $6 million in 2,000 theaters, while the Mark Ruffalo–starring Infinitely Polar Bear made $47 thousand on just five screens, for an average of $9,400 per screen, and The Overnight made $62,000 on 3 screens for an impressive average of $20,667.