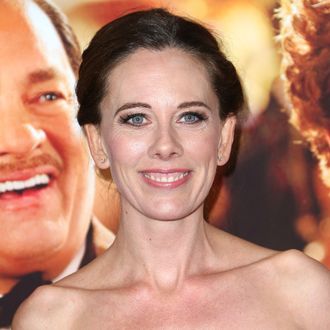 Kelly Marcel.
Photo: Frederick M. Brown/2013 Getty Images
Appearing on Bret Easton Ellis's podcast earlier this week, Fifty Shades of Grey screenwriter Kelly Marcel revealed she hasn't yet seen her own movie. Why? Well, naturally, it's a long and complicated story (Ellis and Marcel — mostly Ellis — chat for upward of an hour), but the gist is Marcel became heartbroken when she realized that her vision for the film would never be realized or accepted. She called herself a cog in a system, speaking mournfully of the process. She also dished about how the script changed, as well as what it was like to witness some of the project's behind-the-scenes drama. Here are some of the more interesting gems:
On how she constructed her original draft:
I very much wanted to do something different with the screenplay, and when I spoke to the studio and the producers and made that quite clear, they were very enthusiastic about that and kind of loved the things I wanted to do. I didn't want the story to be linear; I wanted it to begin at the end of the film, and for us to meet in the middle. So you start with the spanking, and you have these sort of flashes that go throughout the film. … I wanted to take the inner goddess out, and all of Ana's inner monologue. … I wanted to remove a lot of the dialogue. I felt it could be a really sexy film if there wasn't so much talking in it.
On her moment of unfortunate clarity:
When I delivered that script was when I realized that all of them saying, Yeah, absolutely this is what we want!, and, You can write anything you like and get crazy and artistic with it — that was utter, utter bullshit. Rightly so. Erika was like, This isn't what I want it to be, and I don't think this is the film the fans are looking for. … She ended up coming into my house for a week, and we kind of wrote side-by-side and put things back in. She would always let me argue and fight for things that I felt passionate about. In the end, I think we ended up with a draft that was a halfway compromise, but she had still been very brave about what she had let go. Ultimately, Erika did have all of the control.
On the drama between Sam Taylor-Johnson and E. L. James:
There was a moment where we were weeks away from shooting … and it was clear that that was gonna be a struggle. It's very difficult to come on as a director and to be handcuffed that way and not be able to fulfill your creative vision because there are certain restrictions on you. But at the same time, I would argue that it was very clear that that was the way it was going to be.
On why Charlie Hunnam left:
I know that Charlie had a lot of notes. I know that he felt that the character of Christian wasn't there for him in the way that he needed him to be. And I think that's when Patrick got brought on. … Charlie is a screenwriter, I think he's written a vampire or Van Helsing script, or something like that. … He said he was so sad to leave the project, because he had really, really bonded with Sam, and really liked Sam a lot.
On why she hasn't watched — and won't watch — the movie:
My heart really was broken by that process, I really mean it. I don't see it out of any kind of bitterness or anger or anything like that. I just don't feel like I can watch it without feeling some pain about how different it is to what I initially wrote.
Listen to the whole podcast here: