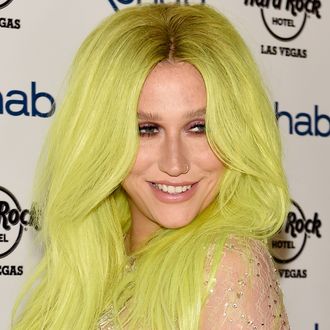 Kesha.
Photo: David Becker/Getty Images
Last October, Kesha shocked the music industry when she filed a lawsuit against famed record producer Dr. Luke, accusing him of long-term abuse and sexual assault. That case had been stuck in a bit of legal limbo until March, when a judge placed Dr. Luke's defamation claim on hold in favor of hearing Kesha's abuse allegations first. Now Kesha has amended her original lawsuit to include her record label, Sony, according to documents obtained by The Hollywood Reporter. In them, she claims Sony enabled Dr. Luke's abuse for years:
"Dr. Luke's proclivity for abusive conduct was open and obvious to [Sony Music Entertainment] Doe executives, who either knew of the conduct and turned a blind eye, failed to investigate Dr. Luke's conduct, failed to take any corrective action, or actively concealed Dr. Luke's abuse. SME's conduct placed Jane Doe female artists, including Ms. Sebert, in physical danger by giving Dr. Luke full creative and business control, with nearly limitless financial resources, over young female artists who necessarily were compelled to become dependent upon his good will."
Kesha also claims in the new complaint that she isn't Dr. Luke's only victim.
"[Sony] has supported Dr. Luke after learning of his abuse towards Kesha and [another artist]," the documents say. "[Sony and Dr. Luke's conduct] has and continues to put [Kesha's] life at risk." Sony has not commented on the accusations.