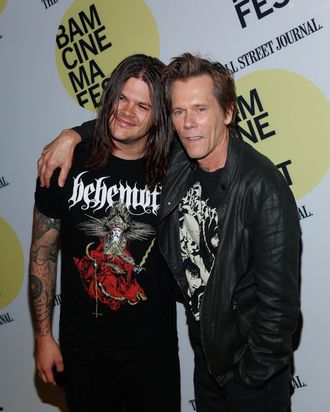 Big Bacon and Little Bacon.
Photo: Rob Kim/Getty Images
Cop Car follows two 10-year-old boys who stumble upon a police cruiser and take it for a joy ride, only to get entangled in the drama of a scummy small-town sheriff, played by Kevin Bacon. Vulture caught up with Bacon at BAMcinemaFest Sunday night to ask him if he's ever left anything in the car, and, well, he has. "When my son was born — it's Father's Day, so I'm thinking about him, especially since he's here — [Kyra Sedgwick and I] took him back from the hospital. We locked a newborn in the car with the keys in the car and the motor running," Bacon said.
"A guy from the garage put his fist through the window and broke in because my wife and I were obviously panicked. My publicist is laughing at me. We were new parents. You know, it was hard." We made sure to note that his son Travis was still alive and kicking at the premiere.