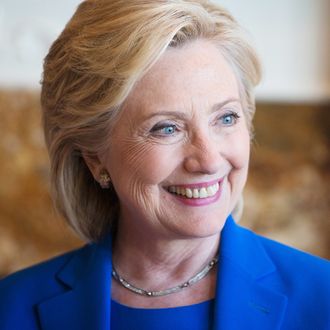 Hillary Clinton.
Photo: Scott Olson/Getty Images
Over the weekend, in advance of her first rally of the year, hosted on Roosevelt Island, presidential hopeful Hillary Clinton released an official campaign playlist. It does not include "Supermodel," as previously recommended, but there are some good choices, including Katy Perry's "Roar" and John Legend's "Wake Everybody Up."
As CNN points out, all tracks on the 14-song playlist were released post-1999. Wise move. When Mitt Romney released his campaign playlist in 2012, it was riddled with music for old people, and we all know how that turned out. Listen to the full #Hillary2016 playlist below.