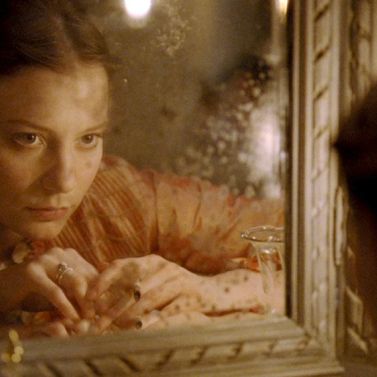 On its surface, Sophie Barthes's film of Gustave Flaubert's Madame Bovary comes at us like a musty blast of Quality — what the French New Wave critics once called "le cinema du papa." An immaculate period adaptation seemingly lacking any ironic distance or newfangled reinvention, this feels at first like the kind of Bovary you can lose yourself in — all petticoats and proprieties. (That this is the second Madame Bovary adaptation to open on U.S. shores this month, hot on the heels of Anne Fontaine's well-acted, but ultimately thin modernization Gemma Bovery, maybe adds to the been-there, done-that quality.) But look closely and you may see that this madame is alive in all sorts of ways. At least for its first half, this is a textured, haunted, remarkably empathetic film. Barthes and her co-writer Felipe Marino feel this Emma Bovary — and they make sure we do, too.
Unlike Flaubert's novel — and also unlike Fontaine's recent updating — Barthes's film sticks almost religiously to Emma's (Mia Wasikowska) point of view. In the film's early scenes, we see her as a young woman at finishing school, learning proper posture, picking apples, etc. She says barely a word. She also remains quiet during her wedding to honest, level-headed Charles Bovary (Henry Lloyd-Hughes); we only see her cry as she bids farewell to her doting, widowed father (Olivier Gourmet). But far from removing us from the action, Emma's silence brings us in closer to her gaze. We begin to see and hear the world with almost childlike fear and wonder; everything seems strange and new. On her wedding night, we hear the thwapp-thwapp of the laces on Emma's dress as they come off; so too the creaking of the bed as she and Charles make love for the first time.
But as Emma becomes more and more aware of her modest station in life — of the fact that being a humble country doctor's wife brings with it little of the romance, splendor, and ambition she envisioned — she rebels, first quietly, then more boldly. She initially rejects her first suitor, wide-eyed legal clerk Leon Dupuis (a terrifically dreamy Ezra Miller), "the last romantic left in all of France," but she quickly falls into the arms of the second, the dashing and brash Marquis d'Andervilliers (Logan Marshall Green). Consumed further and further by her passions, and egged on by the lustful merchant Lhereux (Rhys Ifans), she spends more on material goods, and demands her husband try to rise above his station in life.
All this should make Emma less sympathetic, and, admirably, neither Barthes nor Wasikowska try to woo us with the inherent pathos of the character. Rather, for all the talk of romance, this is a Madame Bovary that's grounded in the real — in the sounds and colors of Emma's world, in its material limitations and splendors. We sense the drab reality of a middle-class life with the thrifty, responsible Charles — the unremarkable little dinners, the dusty air of their home, the clock perpetually ticking in the background. Seen in that light, the little bursts of color that accompany Emma's finer dresses feel like little windows to a better life. When the Marquis takes Emma along with him on a hunt, an army of hounds tracks down a deer in the woods. In a terrifying scene played out partly from the deer's perspective, the Marquis slays the creature with his blade. There's something elemental and irresistible to it, too, though. We can understand how Emma might be drawn to this kind of power.
It's hard, of course, to do justice to Flaubert's sprawling, diffuse original — many have valiantly tried, from Jean Renoir to Vincente Minnelli to Claude Chabrol — and the final act feels rather crowded and muddled, as Emma contends with the consequences of all her transactions, both of the financial and spiritual kind. In these moments, Barthes's film falls to Earth. But maybe that, too, is as it should be. By the time Emma meets her infamous fate, the joys and wonders of all that she has seen and heard and felt have become a distant memory.