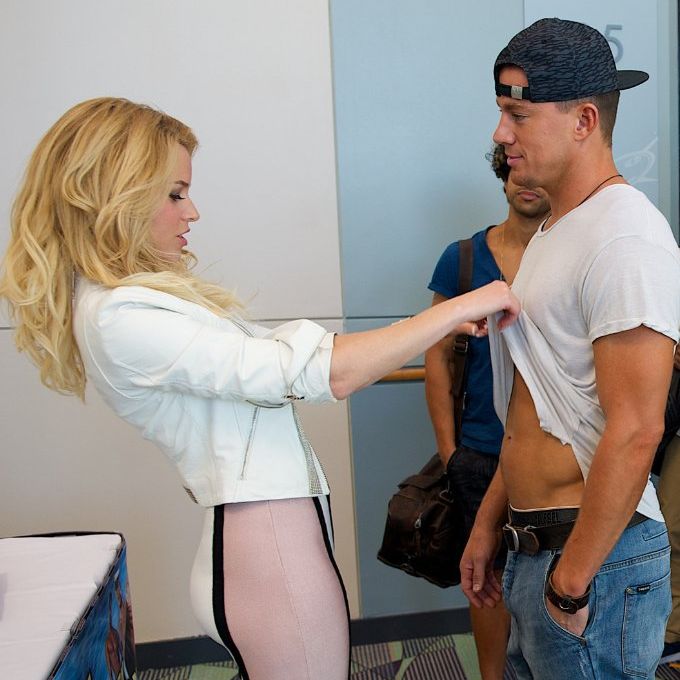 In Jaws, you barely see the shark. In Jurassic Park, the fearsome T. rex is teased early on but not glimpsed in full until much later. And in Magic Mike XXL, you have to wait an entire hour before Channing Tatum even takes off his shirt.

That's right: Somehow, this sequel to 2012's surprise-hit male-stripper movie is one of the least shirtless movies its pulchritudinous star has ever made. "I'll say this … at least it's worth the wait," director Gregory Jacobs told Vulture last week. Where did he find the nerve to keep Channing's chiseled body covered up? Jacobs laughed: "It's in my nature to be withholding, I guess."
He's not kidding: If you think Magic Mike XXL will deliver a cavalcade of R-rated nude scenes from some of the most beautiful hunks in Hollywood, it's time to revise your expectations downward. Our leading men are a lot more modest in their second go-round, and none of the newcomers (including Donald Glover and Michael Strahan) go nude, either. In fact, aside from a first-act ass-flash granted by returning cast member Joe Manganiello, XXL doesn't have a single nude scene until the last five minutes of the movie, when those famous G-strings finally make their belated bow.

Still, you might not mind. The women at my press screening were thrilled throughout, shouting "Take it off!" at each character and throwing hands in the air at each giddy musical cue. More than its predecessor, XXL places a premium on female satisfaction, and almost every dance scene or mostly clothed bump-and-grind is a one-on-one interaction between one of our lead strippers and a very lucky lady. Which brings us to the first thing you need to know about this movie …

In Magic Mike XXL, the Women Come First
The first Magic Mike had a wet-blanket love interest in Cody Horn, who watched Tatum's dance routine as though she'd been dragged to a profoundly unclothed execution. XXL trades her for female leads who are more game to get in on the action, as Tatum encounters sassy photographer Amber Heard — herself no stranger to the pole — and former flame Jada Pinkett Smith, who runs a sexy club offering attentive, shirtless men to the African-American sorority girls and bachelorette parties who can't get enough.

It's there that a road-tripping Tatum and his crew meet Glover, a sensitive crooner who summons a girl from the audience for a shirtless serenade. "All we got to do is ask them what they want," he later tells Tatum, adding, "We're healers." Pinkett Smith echoes that empowering sentiment in her third-act emcee stint, asking the female crowd, "Are you ready to be exalted?" Solo dance routines have no place in XXL: Each performance explicitly serves as a tonic for a woman who's thirsting for affirmation, and audiences will surely drink it up, too, if they're anything like the journalist whose face was flushed as she turned to me after the press screening and said, "Let's go again!"

The Backstreet Boys Play a Pivotal Part
Backstreet's back, all right? After the seminal boy band turned up in the end credits for Seth Rogen's pot-apocalypse comedy This Is the End and got their own revealing documentary earlier this year, they earn a vociferous defense from Manganiello in this movie, who argues that 'N Sync could never hold a candle to BSB. "Backstreet was the only legitimate boy band!" Manganiello shouts at his fellow strippers in an inspired rant, later putting his moneymaker where his mouth is by gyrating to "I Want It That Way" in an impromptu convenience-store striptease. Lou Pearlman would be proud.

The Movie's Got an Unexpected Scene-Stealer
With all the significant supporting actors from the first movie excised — Horn, Alex Pettyfer, and Matthew McConaughey are nowhere to be found in XXL — there's plenty of room for other faces (and bodies) to come to the fore. Manganiello, in particular, steps up almost as an enthusiastic co-lead of the movie, and Pinkett Smith is a hoot as the lascivious emcee who locks lips with Tatum and seduces nearly everyone she meets.

Still, they're no match for Andie MacDowell. Often derided as wooden onscreen, the Sex, Lies, and Videotape actress is positively delicious here as a wealthy southern debutante who's ready to unzip Manganiello's vest and take him for a test-drive. She's recently divorced, she laments to Tatum and his crew, and can boast "two beautiful daughters but only one penis my whole life." Manganiello, who has spent the entire movie searching for a woman who can endure his enormous member (yes, this is a real subplot), is ready to give her a significant second notch on her bedpost, and their very randy flirtation — as well as MacDowell's elongated, appreciative pronunciation of the word damn — is the film's highlight.

The Best Parts Were All Improvised
Like Nomi Malone, who insisted throughout Showgirls that she was a dancer, not a stripper, Joe Manganiello's Big Dick Richie recurringly enthuses, "I'm a fucking male entertainer!" Put that one on a shirt and credit the actor himself, who improvised the line and kept sneaking it in. Tatum, too, made up some of his best moments on the spot. That little self-parodying shimmy from the end of the XXL trailer? That was all him, and both Heard and Jacobs had to keep from laughing in another scene when Tatum came up with a creative drag-queen persona — "a mix between Grace Jones and Cheetara" — during a mostly improvised conversation with his love interest. So what would Channing Tatum's drag name be? "Clitoria Labia," he sputters onscreen, holding a straight face. Get this man to Drag Race, pronto.