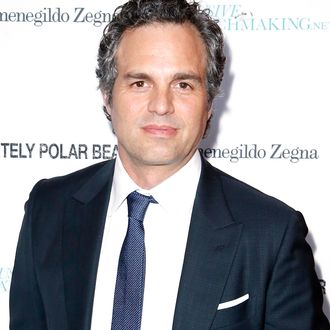 Bring it on, Statham.
Photo: Jimi Celeste/Patrick McMullan
Just last week, Jason Statham, the Laurence Olivier of punching people through windows, bemoaned the state of the modern action film, with its reliance on green screens and regular guys. He particularly frowned upon Marvel's overreliance on stunt doubles and CGI, deeming it "not authentic," and so easy that his grandma could do it. But what do the actors who play Earth's Mightiest Heroes say to that? Vulture caught up with Mark Ruffalo (better known as the Hulk) at the premiere of his new film, Infinitely Polar Bear, hosted by the Peggy Siegel Company. We wondered if he thought he was as tough as Jason Statham. "I mean, do you really need to ask that question? It's Jason Statham," he joked. "He's like a featherweight. He's got nothing on me! Clearly." Your move, Statham.