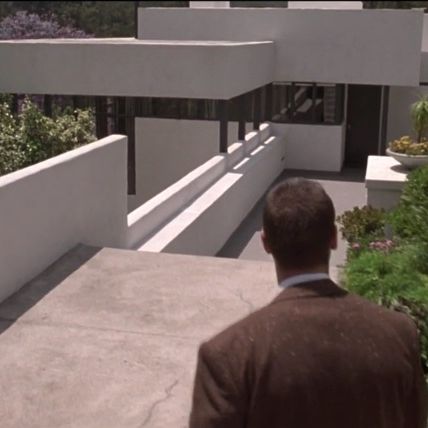 In the second season of Nic Pizzolatto's True Detective, now set in Los Angeles, entrepreneur-cum-criminal Frank Semyon (Vince Vaughn) lives in a pretty swank house. In fact, film/TV villains based in L.A. and its surrounding areas always seem to live in really nice, modernist houses (often designed by John Lautner), the buildings' glass surfaces and complex concrete contours reflecting the villains' motives, madness, and megalomania. (Though sometimes a beautiful house is just a beautiful house.) We've compiled a list of great modernist houses in which villains have taken up residence, and asked New York Magazine design expert Wendy Goodman to rank them. Ahead, a worst-to-best assessment of Southern California's more villainous homes.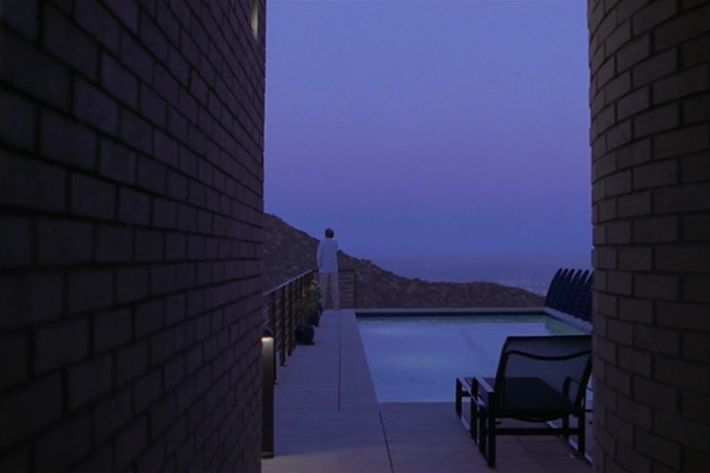 8. Brent Saville, Astral House, 1995 (The Limey). "If you can afford a house like this, you buy a house like this," says Luiz Guzmán's small-time crook who cannot afford a house like this. Terry Valentine — Peter Fonda's on-the-down-and-out record producer and drug peddler — lives here. The pool is the best thing about this house. The interiors are a bit of a letdown from its more dramatic, modernist architecture.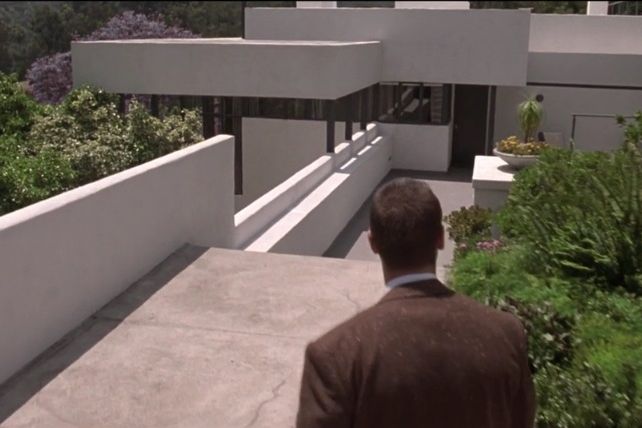 7. Richard Neutra, Lovell House, 1929 (L.A Confidential). Another modernist house inhabited by a smut king (pornographer Pierce Patchett), though this house — and this smut king — is less lavish, less foreboding. Only one of them survives the film. With its Bauhaus International Style concrete boxes massing over varying levels, the Lovell House has an austere, commanding presence. It's not a welcoming, put-your-feet up kind of place.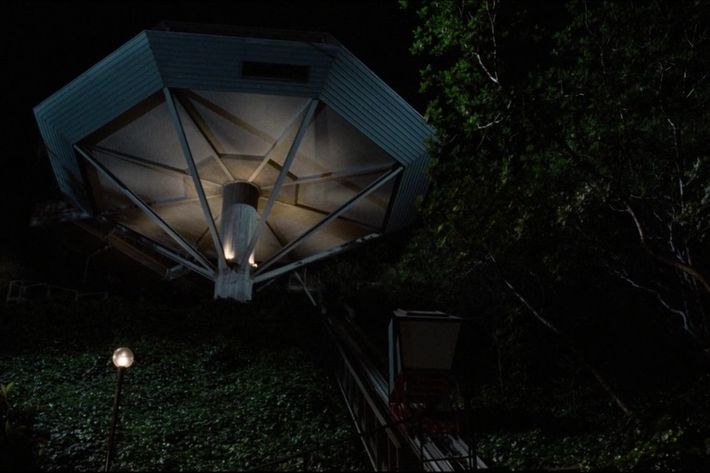 6. John Lautner, Chemosphere House, 1960 (Body Double). In one of Brian De Palma's most meta, navel-gazing efforts, a struggling actor agrees to house-sit for a less-struggling actor friend. (The interior decorations are garish and gaudy, a bit of '80s excess parody.) Since the house is basically one giant Peeping Tom platform, the struggling actor develops an unfortunate peeping penchant (all part of a plan, of course), accidentally witnessing a murder through his telescope. The Chemosphere seems to be Lautner's ode to the spaceship. It's his most daring and seemingly precarious house. It looks like an octagonal flying saucer balanced in midair on a 30-foot concrete pole.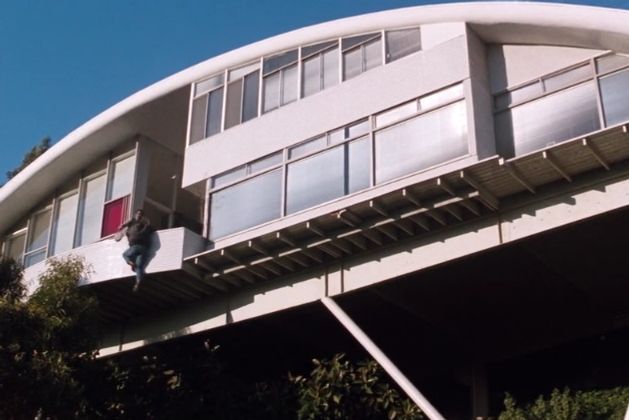 5. John Lautner, Garcia House, 1962 (Lethal Weapon). A coterie of South African officials hiding behind the veil of "diplomatic immunity" make the mistake of killing Martin Riggs's (Mel Gibson's) girlfriend. Riggs consequently uses his pickup truck to tear down their headquarters, which is shaped like an eye and looks out over the gorgeous landscape from the living room. There is something inviting and mysterious about this house as you travel through it.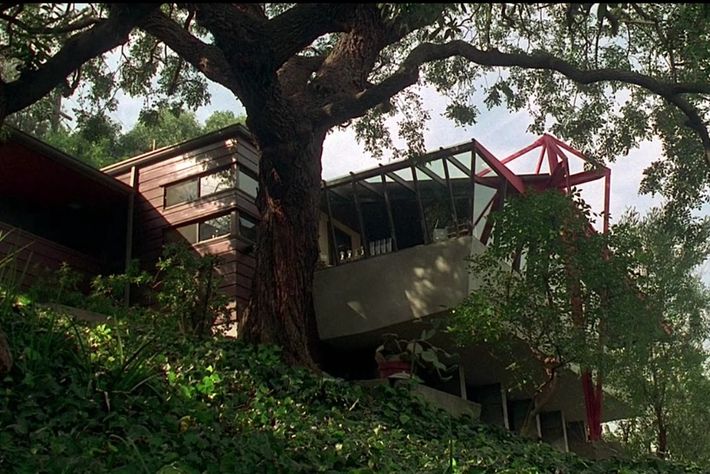 4. John Lautner, Jacobson House, 1947 (Twilight). Paul Newman's corrupt cop, Harry Ross, receives this lovely home as a present for his squalor and misdeeds. He likes it — it's up above the smog. Lautner brilliantly plays up the dramatic sites of his houses, and the dramatic setting of this villain hideaway is no exception.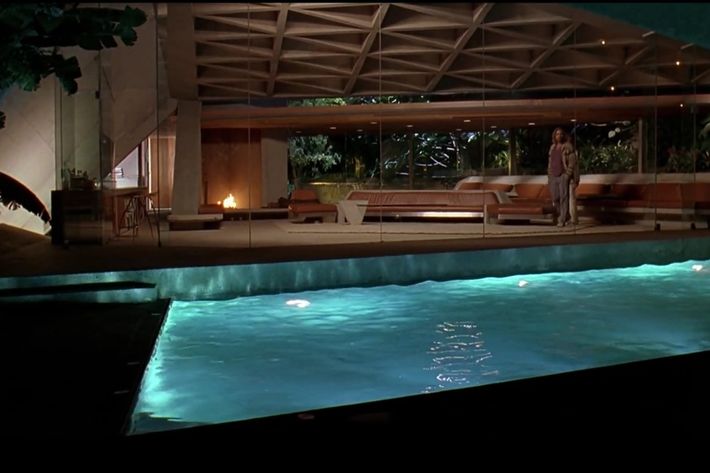 3. John Lautner, Sheats Goldstein Residence, 1960s (The Big Lebowski). The domain of the Sultan of Smut Jackie Treehorn, who drugs Jeff Bridges's Dude and dumps him on the side of the highway, is vast and vacuous, just like its hotshot owner. One of the all-time-great visual gags, involving a pencil and a penis, happens in this scene. Another Lautner beauty built for the groovy '60s as a pure pleasure pad with its flirty indoor/outdoor architecture and sensual interiors.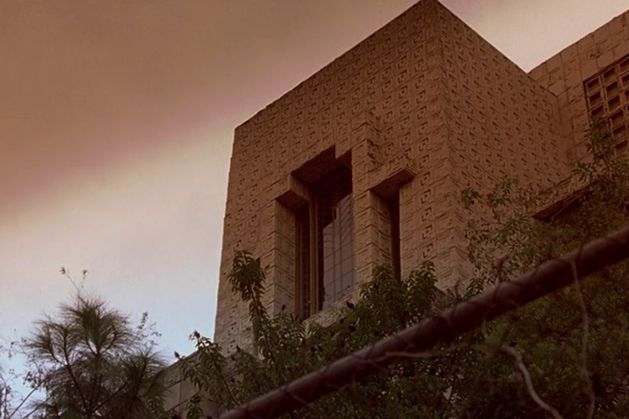 2. Frank Lloyd Wright's Ennis House, 1924 (House on Haunted Hill, The Replacement Killers). In the original House on Haunted Hill, Vincent Price's Frederick Loren lures several guests to his allegedly haunted home, promising them $10,000 if they can survive the night. The Gothic interiors are artificial, however, all built on soundstages. In The Replacement Killers, one of several movies to use the Ennis House to capitalize on the Yellow Peril, a powerful gangster and his cronies take up residence in the iconic building. The house looks like a fortress built for a deity, or a palace built for royalty. It's one of Wright's grandest and most formal.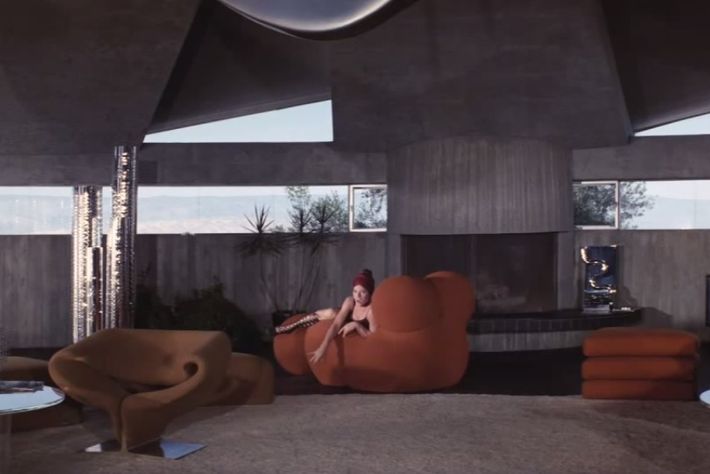 1. John Lautner, Elrod House, 1968 (Diamonds Are Forever). Sean Connery, in his last official outing as James Bond, gets trounced by Bambi and Thumper, two scantily clad henchwomen who throw Bond around the house before tossing him into a pool. Poor James. The house (actually located in Palm Springs) is one of John Lautner's most spectacular masterpieces. Its otherworldly organic architecture harbors glamorous, sexy interiors that speak to the confidence and authority of the owners.