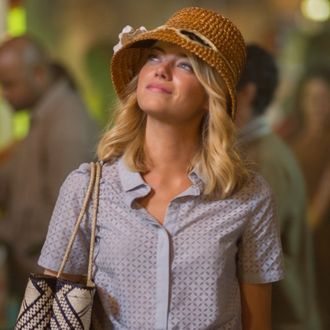 Photo: Neal Preston/Columbia
The Academy of Motion Arts and Sciences, the group responsible for deciding on and dishing out the Oscars, has extended invitations to 322 new potential members. In recent years, the group has come under heavy scrutiny for its discernible lack of diversity, with the majority of voters falling into the oddly specific demographic of 60-and-older straight white men (maybe that's not so surprising, actually). They finally appear to be making an effort to diversify the voting contingency, however, which currently includes around 6,000 voters, but the process will take a long time, as the Academy has to wait until members leave (read: die) before they can replace them.
"It's very gratifying to see the big increase in gender and people of color, in age and national origin. It's a testament to the extraordinary breadth of talent in our industry," said Cheryl Boone Isaacs, the Academy president, who signs each invitation personally. "This organization is committed to increasing the diversity of voices, opinions and experiences. The branches, which set the criterion for membership, have really stepped up and looked out and about and around to recognize filmmakers and artists and crafts people who maybe might have been overlooked in the past."
This year's eclectic group of invitees include J.K. Simmons, Eddie Redmayne, David Oyelowo, Benedict Cumberbatch, Emma Stone, Joon-ho Bong (Snowpiercer director), John Legend, Common, Choi Min-sik (Oldboy), Jason Segel, Daniel Radcliffe, Edgar Wright, James Gunn, Kelly Reichardt, Justin Lin, and Rosamund Pike.
You can browse the entire list here.