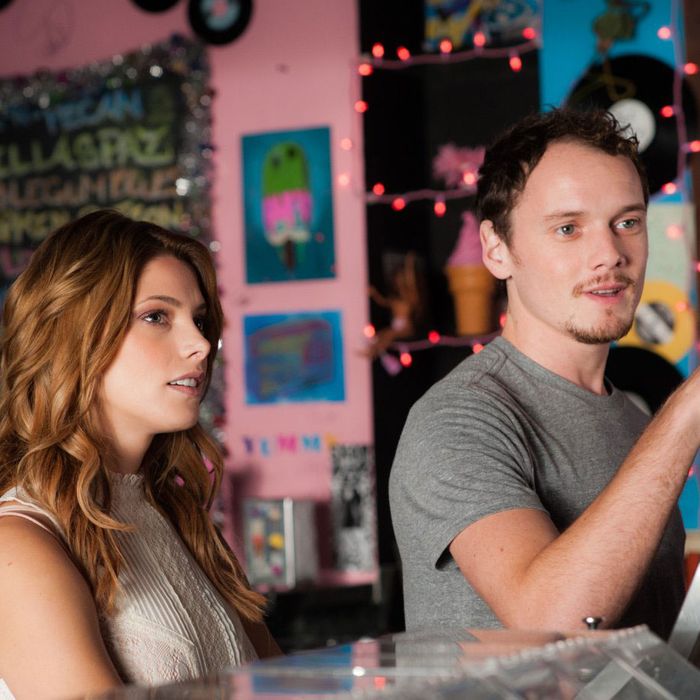 It's a sign of the unhealthiness of mainstream Hollywood — and the corporate theme-park audience it has cultivated — that a good exploitation director like Joe Dante doesn't have the wherewithal to make a movie a year. It's true that his work has a wide countercultural streak, which is why highbrow-lowbrows like me love him. In The Howling, his segment of Twilight Zone: The Movie, Neighbors, Gremlins 2, Small Soldiers, Looney Tunes: Back in Action, and the "Homecoming" episode of Masters of Horror, he proves that genre parody can also be the basis for potent, subversive satire. But you can enjoy his movies on dumber levels, too. What he lacks is a talent for middlebrow faux-seriousness — the kind you get in "dark" superhero pictures and "family values" monster flicks like Jurassic World. He's not enough of a bullshit artist.
Dante's newest movie, Burying the Ex, doesn't make the leap to satire. It has a lame-pun title, a zombie premise that might have seemed fresh two decades ago, and the sexual politics of an unusually backward adolescent male horror nerd. For all that, it's a lot of fun, and Dante's heart is palpably in it.
His hero is Max (Anton Yelchin), who works at a costume and horror-memorabilia store and has somehow acquired a strident, snobby ecowarrior girlfriend named Evelyn (Ashley Greene, from the Twilight movies). Words that also come to mind for her are harridan, shrew, ball-buster, bitch, and one that I'm too much of a gentleman to use. But she's a tiger under the sheets, which keeps poor Max coming back. Under intense pressure, he even pledges they'll be together forever and ever — unfortunately, in his store, in front of a devil doll with supernatural powers. (Don't ask where it came from — it's not that sort of movie.)
Early on, Alan Trezza's script introduces the Betty to Greene's Veronica: a bubbly, blue-eyed, unpretentious, vintage-horror-movie-loving, ice-cream-flavor-designing cutie named Olivia, played by Alexandra Daddario, lately the Rock's resourceful daughter in San Andreas. Furiously jealous, Evelyn calls her a skank — and Max's inability to dump her on the spot is a mark of either his decency or wussiness or both. When, months later, at the urging of his incorrigibly sleazy horndog half-brother Travis (Oliver Cooper), he does decide to dump her, she gets hit by a bus. He's all broken up until he bumps into Olivia at a Val Lewton double bill — which is also, alas, the night Evelyn comes back from the grave. And she is truly the Ex-Girlfriend From Hell.
Greene's voice has the tinniness of a porn actress's — she reminded me of onetime centerfold Patty Mullen in the even broader Frankenhooker — but she's likably game, and Yelchin's attempts to wriggle out of her libidinous grasp are very funny. (He's an excellent farceur.) Daddario's Olivia is impossible to believe but also — at least for this adolescent-at-heart horror nerd — impossible to resist. Last year's unfairly dismissed zombie-girlfriend comedy Life After Beth (with Aubrey Plaza) cut deeper, psychosexually speaking, and had more creatively yucky decay, but Burying the Ex is no slouch in the gore-and-gag department. If the script is a little thin, it also has the most inspired Hostess Twinkie joke I've heard — and the Twinkie-joke bar is set high.
To compensate for that thinness, Dante stuffs Burying the Ex with genre bric-a-brac, from foreign horror posters to issues of Video Watchdog, Famous Monsters of Filmland, and Cinefantastique, to clips of Vincent Price, Christopher Lee (RIP), and the pissed-off head from the immortal The Brain That Wouldn't Die. The ageless Dick Miller puts in his usual appearance, thank Amun-Ra. I'd probably find the endless genre references obnoxious if this were a too-cool "postmodern" horror picture like Scream. But in this case, they really are a way of filling in the movie's universe, whisking us back to a time when models of classic monsters weren't "merchandising" and a studio's genre films didn't need to earn hundreds of millions of dollars. It's a universe where the terror of a dominating woman can't be blamed on misogyny but on being 12 years old.