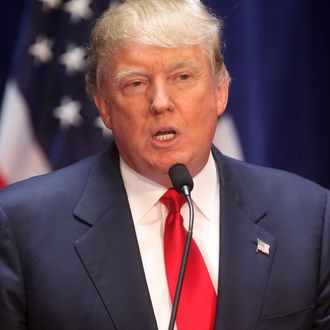 Photo: Steve Sands/Getty Images
NBC executives have given Donald Trump a long-overdue message: You're fired. Following Trump's recent racist rant/Republican presidential announcement, the Peacock network and its NBCUniversal parent company Monday severed all business ties with the billionaire TV personality. The immediate result: Trump, as he told CNN Sunday, will not host the upcoming edition of Celebrity Apprentice, nor will he serve as a producer on the show. In addition, the network, following the lead of Univision, will no longer air the Trump-owned Miss Universe or Miss USA pageants. "Due to the recent derogatory statements by Donald Trump regarding immigrants, NBCUniversal is ending its business relationship with Mr. Trump," read a statement from the network, which noted "respect and dignity for all people are cornerstones of our values." The not-very-subtle subtext: Trump doesn't share those values, so he's out. 
While NBC is divorcing Trump, it's not giving up Celebrity Apprentice. The show, as the network notes, is "licensed from Mark Burnett's United Artists Media Group," and as such, "that relationship will continue." Not immediately clear is who will take over for Trump as host of the next installment of Celebrity Apprentice, which is scheduled to return in early 2016. One immediate candidate: Burnett himself,who built himself into one of TV's most powerful producers in a rags-to-riches story, demonstrating keen business and marketing acumen along the way. The producer's schedule and relative anonymity outside of industry circles might rule that out, however. As for the pageants, insiders say NBC is likely to end its financial partnership with the Trump Organization, though given Trump's history with lawsuits (and threats of lawsuits), that might be a complex extraction process. 
NBC's decision to part company with Trump has seemed inevitable in recent weeks, as Trump finally made good on oft-repeated (but until this month not-acted-upon) threats to run for president. Initially, however, the network would only say it was "evaluating" its relationship with the mogul, seeming to leave open the possibility that it might yet stay in business with him. This added credibility to theories that Trump's campaign would be a short one — long enough to appear in early debates in August and September, but not so long as to interfere with his TV career. While Trump has filed paperwork declaring his candidacy, he has not yet filed the detailed financial disclosure forms required by the Federal Elections Commission. (In fairness, several other GOP candidates haven't either, but they don't have the same history with fake presidential runs as Trump.) But the backlash to Trump's announcement speech, in which he disparaged Mexican immigrants as "rapists," among other things, made it harder than ever for NBC to stay in business with its longtime partner. The final straw, however, may have been last week's decision by Univision, which had the Spanish-language TV rights to the Trump pageants, not to air the upcoming Miss Universe contest.