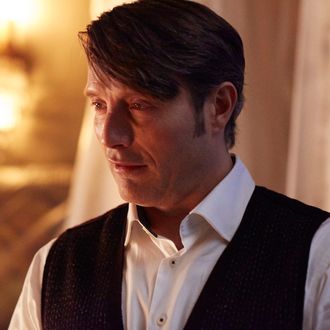 We'll miss you, Dr. Lecter.
Photo: NBC
Hannibal's third season, currently airing, will be its last, Vulture can confirm. It was surprising that Bryan Fuller's drama, one of the most avant-garde shows on television, even made it to three seasons on NBC considering its low ratings, which have nosedived this summer. Last week's hour was seen by just 1.7 million same-day viewers and had a 0.5 rating among adults under 50, basically tying the previous week's series low. And even when DVR data is included, Hannibal has been struggling. After seven days of replays, this month's season premiere rose a modest 38 percent from the show's same-day audience, with its so-called L+7 viewership of 3.6 million viewers half the tune-in of new summer shows such as Wayward Pines and the premiere of ABC's The Whispers. In other words, despite two years of trying and amazing reviews, audiences just weren't coming around to dine with Hannibal.
NBC released a statement Monday acknowledging that Fuller "brought a visual palette of storytelling that has been second to none in all of television — broadcast or cable." Fuller also thanked the peacock network for taking a chance on his show and left the tantalizing possibility that the show could get picked up elsewhere. "NBC has allowed us to craft a television series that no other broadcast network would have dared, and kept us on the air for three seasons despite Cancellation Bear Chow ratings and images that would have shredded the eyeballs of lesser Standards & Practices enforcers," said Fuller. "Hannibal is finishing his last course at NBC's table this summer, but a hungry cannibal can always dine again." The production company De Laurentiis tweeted that they're exploring other options.

Will Dr. Lecter live to eat again?