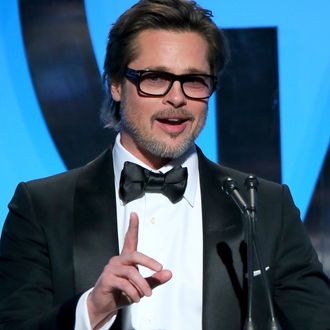 Netflix's newest star.
Photo: Mark Davis/Getty
After analyzing millions of hours of streaming data, Netflix's algorithm has decided that the American people enjoy watching Brad Pitt just as much as they enjoy watching Adam Sandler: According to Deadline, the streaming service has acquired the distribution rights to War Machine, a satirical look at the war in Afghanistan that will star Pitt as a general loosely based on Stanley McChrystal. (It's based on the late Michael Hastings's book The Operators.) Netflix reportedly paid $30 million for the privilege of getting a bona fide A-lister on its roster, while Pitt — who is also producing the film — is reportedly thrilled someone gave him a lot of money to make his own version of The Men Who Stare at Goats.