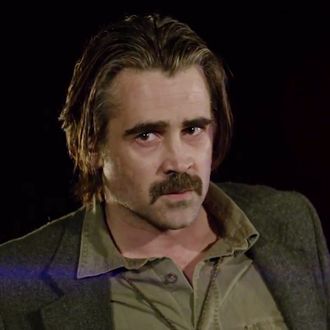 True Detective 2 and all its stressful, chaotic madness is almost here, but first the network has a couple more teasers up its sleeves — in the form of an extended synopsis and first-episode details. As you know, "a bizarre murder brings together three law-enforcement officers and a career criminal." That quad is portrayed by Colin Farrell, Taylor Kitsch, Rachel McAdams, and Vince Vaughn, respectively, and they're all going to dive into a mess tied to the United States' transportation system. (Kelly Reilly, Christopher James Baker, Afemo Omilami, Chris Kerson, James Frain, Lolita Davidovich, W. Earl Brown, David Morse, and Rick Springfield will round out some of the ancillary roles.) So just how messy is that mess?
Well, here's the extended synopsis for the season:

Colin Farrell (Golden Globe winner for "In Bruges") plays Ray Velcoro, a troubled detective whose allegiances are torn between his masters in a corrupt police department and the mobster who owns him. Vince Vaughn ("Wedding Crashers") portrays Frank Semyon, a criminal and entrepreneur in danger of losing his empire when his move into legitimate enterprise is upended by the murder of a business partner. Rachel McAdams ("Midnight in Paris") plays Ani Bezzerides, a sheriff's detective whose uncompromising ethics put her at odds with others and the system she serves. Taylor Kitsch (HBO's "The Normal Heart") portrays Paul Woodrugh, a war veteran and a highway patrol motorcycle officer, running from a difficult past and the sudden glare of a scandal that never happened.
And here, in all its creepy glory, is the title of the premiere: "The Western Book of the Dead," which will be about:
The disappearance of a city manager disrupts a lucrative land scheme and ignites an investigation involving three police officers and a career criminal who is moving into legitimate business.
The second episode is called "Night Finds You." Both were written by Nic Pizzolatto and directed by Justin Lin and kind of sound Twin Peaks–y. Joy. They and the other six episodes will be available for your viewing pleasure on HBO, beginning June 21 and on following Sundays at 9 p.m. ET and PT.