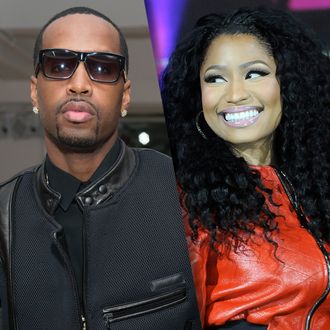 Ethered.
Photo: Noam Galai/Getty and Brad Barket/Getty
Nicki Minaj's decadelong relationship with ex-boyfriend (and reported former fiancé) Safaree Samuels didn't end on the best terms following their breakup last year (as documented on her last album). Since then, Nicki has moved on with Meek Mill, while Safaree had previously handled the situation like an adult in an interview. It seems he's had a change of heart, though, as his new song "Love the Most," which leaked online yesterday, includes lyrics accusing Minaj of hiding their relationship from the public, infidelity, and taking pills. Minaj, normally the queen of shade, fired back in a candid series of tweets (some of which have since been deleted) urging Samuels to quit the "pity party" and "live your life."
Lesson: don't cheat on a loyal woman. God will punish u. When he does, tell people the truth. The truth may set u free. Love. Always.
— NICKI MINAJ (@NICKIMINAJ) June 11, 2015

Took a person with me to fame & fortune. These dudes leave their girl in the hood. Tell ppl the truth or you will b doomed. ☺️☺️☺️☺️☺️☺️☺️☺️
— NICKI MINAJ (@NICKIMINAJ) June 11, 2015

Enough with the pity party. Just live your life.
— NICKI MINAJ (@NICKIMINAJ) June 11, 2015
And to the naysayers who think Meek Mill is just a rebound, she had this to say:
Nicki Minaj, proving once again why unapologetic happiness is the sweetest revenge.