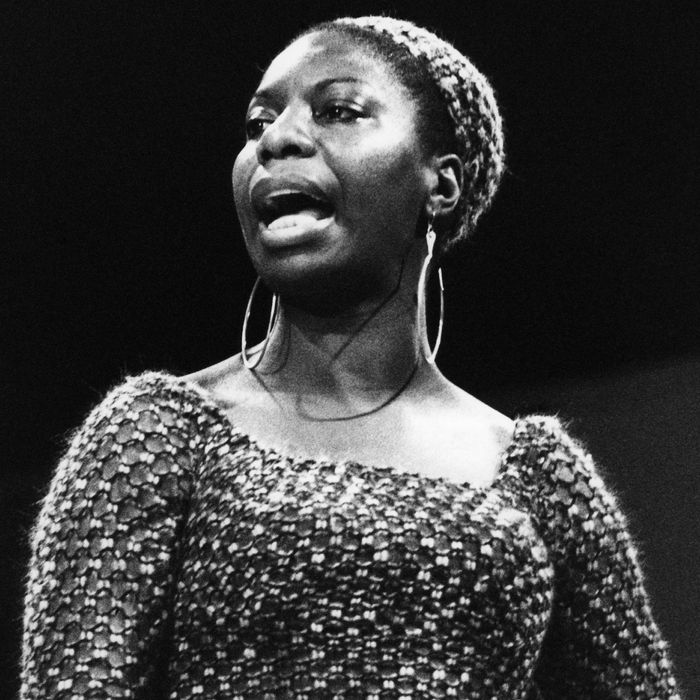 Photo: David Redfern/Redferns Ltd/Getty Images
One of my favorite moments from Netflix's new Nina Simone documentary, What Happened, Miss Simone?, is when she boldly calls herself a "rich black bitch." The way she says it speaks to her timelessness, her free-thinking attitude, and her ability to anticipate trends long before being a "bad bitch" became a total thing. Nina Simone knew intuitively that she could be anything she wanted to be — damn if anyone tried to stop her.
And they did. She was a classically trained pianist who dreamed of becoming the first black woman to perform as a soloist at Carnegie Hall. Her ambitions were thwarted when she was rejected from the Curtis Institute of Music in Philadelphia. She had the skills for admission but not the right skin color. It was her first real taste of racism in America. In need of money, Simone turned to jazz, performing in nightclubs and restaurants where she incorporated contrapoint and other techniques usually reserved for classical music into her style. By the mid-'60s, she became a political firebrand, standing alongside radical minds like James Baldwin and Lorraine Hansberry as they rallied behind civil rights and against segregation. Her work during this period became some of her best-known. Those songs are still shockingly relevant today, but they don't capture the full range of her output.
Nina Simone would improvise and change keys in the middle of a song, weave together classical, jazz, gospel, soul, and folk. She was a rich black bitch, a political agitator, a pianist in an evening gown and pearls, and a volatile perfectionist. Her true gift was her versatility. In the spirit of that genius, here are 11 songs to reflect the breadth of her talent.
"For All We Know"
A Great American Songbook classic on which Simone demonstrates her balmy vocals and piano verve.
"Li'l Liza Jane"
Simone performed this song during her breakout gig at the Newport Jazz Festival in 1960; it's a great example of her affinity for folk and balladry.
"Strange Fruit"
Originally written for Billie Holiday, Simone's version of this dark elegy for victims of lynchings in the South is just as haunting as Lady Day's.
"Mississippi Goddam"
Written after the assassination of Medgar Evers and the 16th Street Baptist Church bombing in Alabama, this Simone original has earned a place in the civil-rights canon.

"Trouble in Mind"
Simone's deep voice calls to mind prior female blues legends like Big Mama Thornton and Koko Taylor, but Simone knew how to hold her own over eight bars as well.
"To Be Young, Gifted and Black"
The playwright Lorraine Hansberry, a close friend of Simone's, died an untimely death at 34. Her ex-husband, Robert Nemiroff, staged this play posthumously. Nina used the title to commemorate her friend. It's part tribute, part anthem for black youth.
"He's My God"
Eunice Kathleen Waymon changed her name to Nina Simone to keep her parents from finding out that she was singing secular music, but she never abandoned her gospel roots.
"I Loves You Porgy"
Her breakout single, a lovelorn piano ballad from Gershwin's 1935 opera Porgy and Bess, featured those unforgettable vocals that you only need to hear once to remember forever.
"Stompin' at the Savoy"
Another American Songbook standard where Simone demonstrates her unique vocal phrasing.
"I Put a Spell on You"
Simone reinterpreted Screamin' Jay Hawkins's spooky rock 'n' roll dirge as a sensual jazz classic backed by an orchestra.
"Sinnerman"
In a 1970 performance at the Montreux Jazz Festival, Simone reimagines this traditional black spiritual into a percussion-heavy African dance. Her version of this revival-meeting song has been sampled by Kanye West, Talib Kweli, and Timbaland, among others.