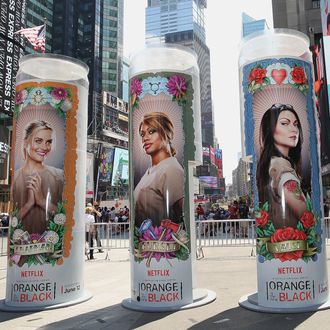 OITNB.
Photo: Cindy Ord/Getty Images
Netflix surprise-announced (like Beyoncé and everyone else who has released something recently) that season three of Orange Is the New Black was hitting the streaming service earlier than expected. The latest installment of Piper Chapman exploits was originally supposed to roll out midnight Friday, but, hey, Netflix is beneficent and wants you to have these episodes now. "Attention inmates! Orange Is the New Black season 3 is out on early release," Netflix tweeted Thursday evening. What are you waiting for?
It's bingeing time:
Uzo Aduba, a.k.a. Crazy Eyes on the show, broke the news to OITNB fans first:
Variety notes that Aduba announced the surprise during OrangeCon, a fan event for the series, where the cast had congregated for a panel. Aduba had reportedly asked Netflix co-founder and CEO Reed Hastings to give fans there a sneak peek. Hastings was then immediately canonized and given a national holiday in his name because he just put the entire series up six hours ahead of schedule instead. Thanks, Reed. Happy Reed (and OITNB) Day, everyone.