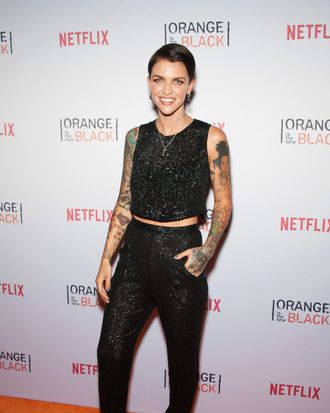 Ruby Rose.
Photo: D Dipasupil/Getty Images
She's the new girl on the cellblock, but Ruby Rose is already a star. For the third season of Orange Is the New Black, the Australian model, VJ, and recording artist plays Stella, one of Litchfield's latest prisoners with an alluring stare and sharp wit who wreaks havoc on the already fragile Alex-Piper relationship. The OITNB cast is famously tight-knit, but Rose says she was welcomed with literal open arms by Vicky Jeudy (Janae Watson) — the two were seated side-by-side in Rose's first scene. We caught up with Rose at Orangecon in New York, where we chatted about singing Taylor Swift songs on set and having to admit to co-star Lori Petty that she had a tattoo of Petty's face on her back.
My understanding is that the OITNB set is enormous. Did you ever get lost?
Yes, many times. We filmed in an abandoned psychiatric ward for children, which isn't that fun when you're the new girl walking around trying to find the toilet and everywhere you go there's kids' artwork or random clothing or a backpack. I swear it's haunted — I could hear things! One time I found a child's shoe and it really freaked me out because it was perfectly placed in the middle of the hallway.
Weird. What kind of shoe?
It looked like a tennis shoe, like a little kid was playing tennis there and then ran away! It was so scary and sad.
Lori [Petty, the other new inmate] says she took someone with her wherever she went.
Yeah, Lori was great for that. There were so many times where I was in the middle of a scene and she was like, "I don't care, you're coming with me." We were both new so we had to band together to figure out where we were going.
Stella's whole purpose at Litchfield is to ruffle some feathers, and create a love triangle between Alex and Piper. Did you have fun with that?
Yes, because it's not like I was ruffling feathers in the real world. We were all hanging out and having a blast, and then they call action and the games begin. It's fun being able to play someone so mischievous who clearly has her eye on the prize and doesn't care about what it takes to get it, and that's not something I would do in real life. I'm much more laid-back and not quite as cocky — Stella's really something else. So being able to switch into that character and play someone who really doesn't give a fuck is refreshing.
There are some Alex-Piper diehards out there. Can you foresee a backlash against Stella now that the show has aired?
It already exists! It's Team Stella, Team Alex, Team Piper, but it's all in fun, right? But there are already T-shirts! Someone gave me a Team Stella T-shirt. I was like, I'm not sure I can wear that without that looking a little narcissistic, but I'll keep it.
What was the atmosphere like on set? Your co-star Uzo Aduba (Suzanne Warren) said that there was a lot of gospel-singing.
Oh, god, yeah, you're talking about a cast of women who are all ridiculously good at singing and half of them are good at dancing and the other half are good at painting … Taylor Swift's album was released while we were filming, so we'd all be singing the songs and dancing and then the directors would say, "Okay, where are the girls? We need to shoot now," so we'd turn Taylor Swift off for a second. Honestly it was like a girls' sleepover that went for five months.
That sounds amazing. By the way, Basquiat is showing in Brooklyn, and I know you're a fan.
I know, and I'm going to see the exhibit! I saw him in Toronto, I saw him in Australia, and now I'm going to see him in Brooklyn. I might take Lori because we have matching tattoos. I also have a tattoo of Lori…
Seriously?
Yeah, I have Tank Girl.
Did she know that when you met?
I said to everyone, Please don't tell her. I'd like to meet her and be cool for five minutes. But of course everyone told her. When we met she walked up and said, "Are you the girl with my face on your back?" And I was like, yeah, that's me.