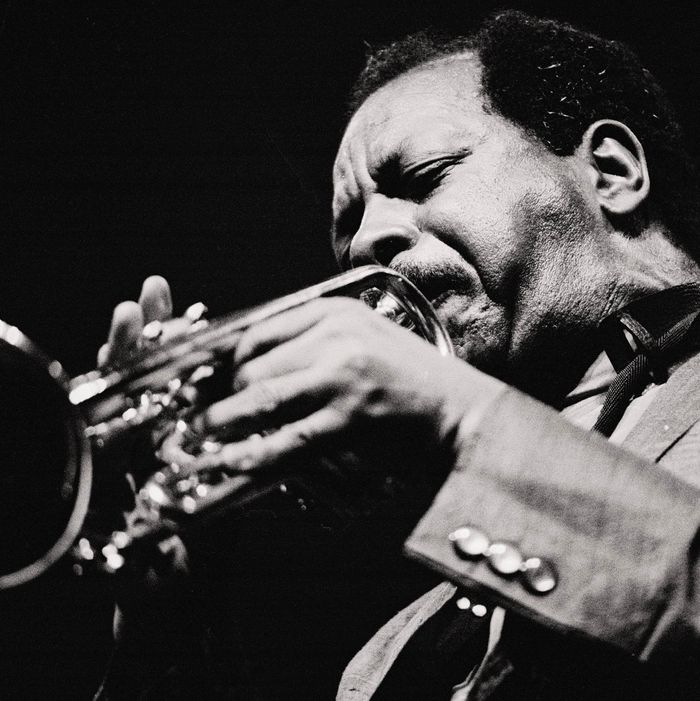 Ornette Coleman, jazz musician Coleman blowing the trumpet (Photo by Matias Nieto/Cover/Getty Images)
Photo: Matias Nieto/Cover/Getty Images
The poet Philip Larkin was notably reactionary, and a lot worse, on a lot of subjects, and when he wrote jazz criticism in the 1960s, he was particularly disapproving of pretty much any such music recorded after the Okeh label was bought by Columbia in 1926. (Okay, that's a slight exaggeration.) So it's a little surprising to peruse Larkin's collected writing on jazz and see him lavish (sometimes admittedly qualified) praise on the visionary Ornette Coleman, once the record-title-proclaimed Shape of Jazz to Come!, who died this morning at the age of 85.
Coleman's "500 odd bars on R.P.D.D.'," Larkin wrote of a tune on the 1962 LP Ornette!, "ranging from lusty honking to meditative diminuendo and exhibiting unfailing resourcefulness at all stages, must be the most remarkable solo released this year so far." Years later, bitching about Coleman's Chappaqua Suite, Larkin grouses that Coleman has no chords, "no pitch, no rhythm, no nothing," but goes on to note "Coleman's playing is utterly free from hostility: he is gentle, light-hearted, almost zany, and his alto tone is rather pleasant." As resistant as Larkin was to what made Coleman's larger conception of free music so remarkable, he really hit on something with that last observation. Despite the knottiness or the anarchy of his structures — the things that makes his music difficult to some ears — Coleman's sound was almost always one of unmitigated joy and kindness.
Coleman was born in Fort Worth, Texas, in 1930, and grew up loving the jazz and R&B artists who came through that area. Even in the most abstracted modes of his later music, you can hear the honking, stomping exuberance of Big Jay McNeely, who was Ornette's big influence when the latter played tenor as a young man. After moving to California in the early '50s, Coleman equipped himself with a white plastic alto — the perception of the instrument as a kind of toy, John Litweiler notes in his excellent Coleman biography A Harmolodic Life, was a significant factor in the early derision of Coleman's music — and began playing a music influenced by, and moving forward from, the knotty bebop pioneered by Charlie Parker. A quiet, reserved fellow noted for wearing a heavy overcoat in balmy summer weather, Coleman attracted a small coterie of like-minded musicians, including the amazing bassist Charlie Haden, "pocket trumpet" player Don Cherry, and drummers Billy Higgins and Ed Blackwell. From the very start of his recording career his conception was unusual: Although he had pianist Walter Norris on his first Contemporary Records date, 1958's Something Else!!!, his subsequent groundbreaking recordings of the 1960s, each one bearing a forward-facing title (Tomorrow Is The Question, the aforementioned Shape, Change of the Century, This Is Our Music, and, inevitably, Free Jazz, an unmistakable throwdown), abjured keyboards. In small-group jazz, piano chords anchor the rhythm section, and when vamping behind a horn soloist, keep the listener oriented to a tune's theme; a piano-free group could take off into new harmonic and rhythmic realms with less inhibition. (In later work, Coleman did bring pianist Geri Allen, an acolyte, into a quartet.)  And when Coleman brought a polyphonic lead instrument into his music for the first time, in the 1970s, it was the electric guitar.
Always a spectacular melodist — his "Lonely Woman" is a haunting classic that's tough to hum but stays put once it's in your head — Coleman was nonetheless a target for brickbats from both critics and musicians. His group's late-1959-to-early-1960 residency at the  New York jazz club the Five Spot was a road-to-Damascus moment for many (John Coltrane was among the converts), and a jazz-is-even-deader-than-whoever-last-killed-it milestone for maybe just as many. What sounded like new music to some sounded no more or less than out of tune to, perhaps, most others. The booklet to the 1993 Rhino box set of Ornette's Atlantic Records output, the essential Beauty Is a Rare Thing, collects in the margins observations from musos, most singing Ornette's praises, but also some expressing extreme skepticism: "I think he's jiving," the venerable Roy Eldridge concludes, while master technician (and, alas, not much more) Maynard Ferguson grouses, "He's got bad intonation, bad technique. He's trying new things, but he hasn't mastered his instrument yet."
None of the criticisms ever stopped Coleman from continuing to try new things. He made Denardo Coleman, his son with poet Jayne Cortez, his drummer when the boy was ten years of age. He picked up the violin and the trumpet with no formal training on either (which particularly irritated Miles Davis, who waxes peevish on the subject in his autobiography). He wrote symphonic music, most notably the dense "Skies of America," which at times evokes Charles Ives with a sense of swing and funk. In the early '70s, he traveled to Morocco to record with the Pied Pipers of Middle Eastern trance music, the Master Musicians of Joujouka, for his revolutionary record Dancing in Your Head.
Dancing was not just a springboard for what Westerners now, for better or worse, call World Music, it also served as a prominent informal introduction to Harmolodics, Coleman's attempt to construct a theory of free playing. There are many different explanations of Harmolodics out there, some more comprehendible than others, but the most useful way of defining it might be to say that it sought to destroy hierarchies within musical expression. To say, in other words, that the particular noise you make through the sax or the guitar is of equal value to the chord or melody you attempt to articulate with it. Maybe. The best appreciation of Harmolodic music is achieved by listening to it, and some of the best of it was made by the various iterations of Ornette's '70s electric group, Prime Time, which spawned such monster musicians as bassist Jamaladeen Tacuma, guitarists Bern Nix and James "Blood" Ulmer, drummer Ronald Shannon Jackson, and more. Body Meta, Of Human Feelings — as rocking as these '70s records are, they sure as hell were not "fusion," and indeed, their rollicking freedom proved perhaps more inspirational to the New Wave musicians of New York's downtown scene of the '70s and '80s than to any old-school or fusion jazzers. See, for instance, John Zorn.
Coleman's output over a career full of business ups and downs was nothing less than staggering, even though his last record as a leader, the live Sound Grammar (an acoustic date with a drummer and two bassists), was issued almost a decade ago. Late last year, his particular corner of the music world was abuzz at the release of New Vocabulary, a recorded-in-2009 collaboration between Coleman and trumpeter Jordan McLean and drummer Amir Ziv. (Pianist Adam Holzman appears on three of its 12 tracks.) While the master is sometimes heard quoting from himself on a lead line here and there, his playing is as spritelike and searching as it's ever been. Earlier in the year, Coleman had surprised fans attending a tribute to the man in Prospect Park by doing a little playing himself. (The lineup at that show provides an excellent map of Coleman's influence: Performers included Flea of the Red Hot Chili Peppers, Branford Marsalis, the aforementioned Geri Allen, David Murray, Laurie Anderson, Bill Laswell, Zorn, Thurston Moore and Nels Cline, and, hell, even Bruce Hornsby.) These were, to Coleman fans, excellent portents, but now we know the comeback we wished for is not in the offing. Still: What amazement we have to continue to share and marvel over.
For the Coleman initiate, the best starting point might not be on Spotify or on CD but perhaps on DVD: Last year, Milestone Films released a restoration of director Shirley Clarke's wonderful '80s documentary Ornette: Made in America, which, among other things, chronicles Coleman's return to Fort Worth to spearhead the performing-arts center Caravan of Dreams. Clarke shows a young "Ornette" (played by two different actors) wandering around the railroad tracks of Coleman's old rundown neighborhood, sax in hand. She intercuts scenes of the town's high-society types attending a performance of "Skies" by the Fort Worth Symphony Orchestra, with Ornette and Prime Time. The music weaves in and out of interviews and vignettes to leave a strong impression not just of Ornette as an American innovator, with all the good and bad fortune that category implies, but a gentle person who also had an extraordinary resilience. An artist who understood his path from a very early age and followed it, without compromise. He will be missed very much.