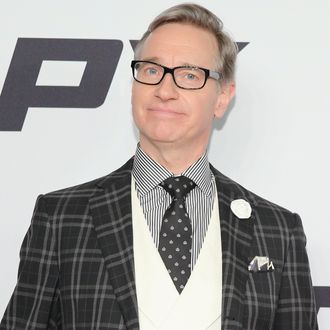 Photo: Neilson Barnard/Getty Images
The social push for spreading on-set Ghostbusters treats has begun, and it's picking up steam: Director Paul Feig tweeted tweaked versions of the iconic jumpsuits early Monday evening. "What you gonna wear," he wrote in hashtag form, above a pic of the four protagonists' — to be played by Kristen Wiig, Melissa McCarthy, Kate McKinnon, and Leslie Jones — uniforms. They look similar to the originals, maybe just a touch darker. The biggest difference is the addition of the orange stripes, which will be great for when the 'Busters go running or walking at night, as they will now be very visible. Solid. Fashionable. Maybe a little too practical. Maybe not. The lapels are unfortunately covering the character name tags, but if you're curious about what those will likely be, head here.
As a whole, the jumpsuits, boots, classic logo, and goggles, are an image of divine nostalgia. Here's the pic Feig tweeted:
And here's a throwback, for comparison. Follow Feig on Twitter if you haven't already, because there are bound to be many more gems before next July.